Device description: The RADIESSE injectable implant is a sterile, non-pyrogenic, semisolid, cohesive implant, the main component of which is synthetic calcium hydroxyapatite (CaHA) suspended in a sterile water-based carrier gel for injection, glycerin and sodium carboxymethylcellulose
Radiesse is a Lifting without surgery
It acts immediately, restoring the natural volume to your face, also achieving a definition in your facial contour, giving it a very youthful appearance.
Radiesse is an injectable dermal filler that temporarily adds volume to help smooth moderate to severe facial wrinkles and gives an immediate lift and firming effect on the skin. Once injected, Radiesse® directly provides the volume and lift necessary to decrease the signs of aging due to the calcium and gel-based microspheres that comprise the product. Both the gel and the microspheres are completely broken down by the body over time.
What does the treatment consist of?
Radiesse fillers are made using two techniques depending on the results that the professional intends to obtain. As usual a single session of about 30 minutes will suffice.
The treatment can be carried out by water technique or cannula techniqueThe latter is usually used to treat facial flaccidity by stimulating collagen, and the needle technique will be used to increase volume, for example on the cheekbones or chin.
As we have said previously, for the realization of some treatments it is necessary to combine these two techniques.
Radiesse - A COLLAGEN stimulator
In addition to an immediate filler effect, Radiesse®'s high-quality ingredients stimulate the skin's natural collagen synthesis. Thanks to the collagen-inducing effect of Radiesse®, the skin recovers its youthful rigidity and elasticity.

What results can I get with Radiesse?
Radiesse can provide various effects depending on the technique, the amount of product we use and of course the anatomy of each patient.
Facelift without surgery
Wrinkle correction providing volume.
Smoothing of wrinkles and folds around the nose and mouth, including nasolabial folds.
Cheek augmentation
Chin augmentation
Mandibular delimitation
Conceal dewlap by vector augmentation
Improve skin quality thanks to collagen stimulation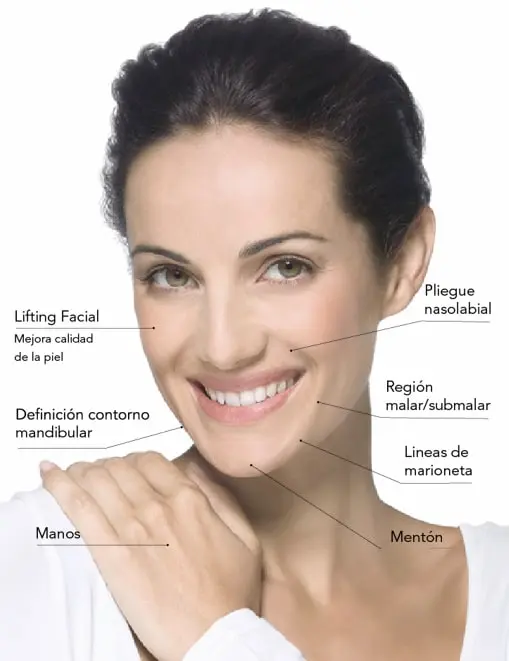 These are some of the effects that we can achieve with Radiesse, although the most important thing about this product is that its effects are long-lasting
Results before and after
Price of skin tightening treatment
This treatment is carried out by Dr. Ricardo Hoogstra. The cost of each Radiesse 1.5 cc syringe is $85.000 pesos
Doubts and queries
If you have any medical questions, send an email to [email protected]  . In this mail Only medical consultations will be received. Inquiries about shifts, payments and administrative issues are not attended.
By phone on Monday, Thursday and Friday from 8 a.m. to 3 p.m. at the following telephone numbers.
0054 11 4 901 6690

0054 11 4 904 3434

0054 11 4 904 0880