Hoogstra Medical Centers Caballito branch introduces the first Solid State Laser for the treatment of Vitiligo and Psoriasis.
The clinical studies carried out showed that the Laser Pallas 311 nm is much more effective for the treatment of Localized Vitiligo than ultraviolet light and than the 308 nm Laser Excimer.
Clinical picture
He vitiligo It is a disease that affects the pigmentation of the skin and appears as spots of a lighter color than normal. It is not contagious and it is treatable.
Vitiligo is a depigmentation disorder, which results from the selective loss of meloncytes in the skin and mucosa.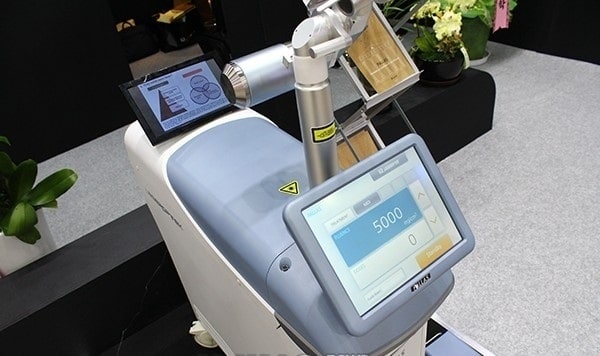 It affects 0.5-2% in the population and remains a major challenge in dermatology.
There are some medical conditions that may be associated, especially thyroid disorders and autoimmune phenomena.
Early treatment, as soon as it is diagnosed, is very important to stop its evolution.
The phototherapy, including therapy with psoralen plus ultraviolet A and narrowband ultraviolet B (NBUVB), has been the mainstay of treatment for vitiligo. However, phototherapy shows limited responses in certain patients and produces radiation from unaffected areas which has the following adverse effects:
Pigments unwanted areas like.
Irritating to unwanted areas, may cause redness and burning.
Produces photoaging.
Increases the chances of developing skin cancer in areas that do not have vitiligo.
Advantages of laser treatment
With laser treatment these undesirable effects would be avoided. Localized vitiligo can be selectively treated and would be the ideal indication for the treatment of children.
The laser has been shown to produce a faster pigment.
It requires fewer sessions than phototherapy.
Some patients begin to repigment after 6 sessions of treatment, while others do after 4 sessions..
Laser treatment is generally started at 100–300 mJ / cm2, depending on the body site and skin phototype.
Features of the Pallas laser
He Pallas it is a Pallas 311 nm Sapphire laser; Laseroptek. It was approved for the treatment of psoriasis and vitiligo in 2015.

The Ti: Sapphire 311nm laser has some advantages compared to the 308nm excimer laser.
One of the main advantages is the greater depth which favors the therapeutic efficacy.
The Pallas is the first solid state laser specially designed for the treatment of vitiligo and psoriasis.
This solid state allows a safer, more stable handling, with less consumption than Laser Excimer that use a combination of inert gases such as argon, xenon and Kripton, which requires permanent replacement.
Treatment is started with low energies, which are increased by 50 mJ / cm2 in each session until erythema (redness) occurs after treatment, and the dose is kept constant at the minimum dose of erythema.
Side effects
Erythema (redness) is generally asymptomatic, does not hurt the patient, and occurs 24 to 48 hours after treatment. This erythema, redness is considered ideal to obtain repigmentation.
Treatment sessions can be done once, two or three times a week. However, the final rate of repigmentation appears to depend on the total number of treatment sessions, not on their frequency, although repigmentation occurs more rapidly with more frequent treatment.
Post-treatment erythema is frequently observed, while burning, blistering, and itching are occasionally observed.
Other more common adverse effects were symptomatic, itchy, uncomfortable erythema that persists over time. Perilesional hyperpigmentation, dark spots around the vitiligo (14.3%) were also observed.
Blistering (10.7%) was minimal. Most of the adverse effects were generally tolerable, and no serious adverse effects were reported.
Mechanism of action
Although the exact mechanism of action of the laser in vitiligo is not fully understood, ultraviolet B (UVB) light appears to contribute both to the modulation of the immune response and to the migration and proliferation of melanocytes.
 The most advanced technology and a prestigious medical staff are the guarantee of a serious and effective approach to the treatment of Vitiligo.
Other treatments that we carry out with the Pallas 311 nm Laser are psoriasis, atopic dermatitis, mycosis fungoides, nodular prurigo, localized scleroderma, genital lichen sclerosus and granuloma annulare.
Treatment security
A frequent question for patients, especially when faced with vitiligo is whether laser is a safe treatment.
Well, the Monochromatic light has a very favorable risk / benefit ratio in which the main side effect is redness, which is usually transitory and will be resolved in less than 24 hours.
The presence of itching, stinging, blistering or reactivation of herpes simplex can occur in very specific cases.
Instead the phototherapy localized performed with the Pallas Laser accumulates little radiation, reason why the long-term side effects, should be diminished.
Vitiligo Treatment Price
Treatment by session It is $3.000 with pallas laser. It is recommended to one to two weekly sessions for a minimum time of 12 weeks.
Doubts and queries
If you have any medical questions, send an email to [email protected]  . In this mail Only medical consultations will be received. Inquiries about shifts, payments and administrative issues are not attended.
By phone on Monday, Thursday and Friday from 8 a.m. to 3 p.m. at the following telephone numbers.
0054 11 4 901 6690

0054 11 4 904 3434

0054 11 4 904 0880
Suggested Biography
Bae, JM, Eun, SH, Lee, HN, Kim, GM, Grimes, PE, & Lee, JH (2019). Comparison of 311 ‐ nm Titanium: Sapphire laser and 308 ‐ nm excimer laser treatment for vitiligo: A randomized controlled non ‐ inferiority trial. Lasers in surgery and medicine, 51(3), 239-244.
Bae, JM, Lee, JH, Jung, YS, & Kim, GM (2017). The efficacy of a gain-switched 311-nm Titanium: Sapphire laser in the treatment of vitiligo: a pilot study of 14 Patients. JAMA dermatology, 153(10), 1055-1056.