Facial rashes
Patients often present with fairly mild signs when they have a facial injury or eruption – due to embarrassment – and diagnosis can be tricky.
Significant itching suggests atopic dermatitis or contact dermatitis.
Expensive:
erosions

/ /

crust



Herpes Simplex
Monomorphic

grouped

vesicles

or crusted

papules

often locally

recurrent

At the same place
Swabs: Herpes simplex
Herpes infection
Acute

dermatomal

eruption

Painful: pain may precede the rash

Erythema

can precede vesicles
Swabs: Shingles
Impetigo
Irregular enlargement

license plate

honey-colored crusts
Swabs: Staphylococcus aureus +/- Streptococcus pyogenes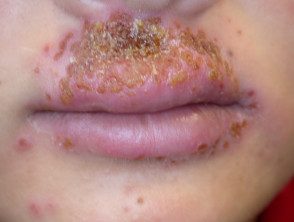 Herpes Simplex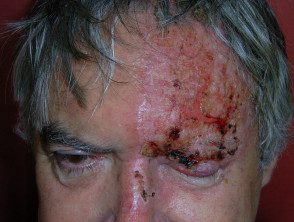 Herpes infection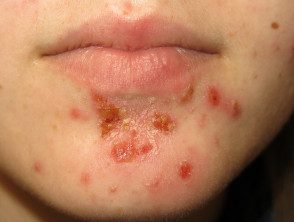 Impetigo
dry or
scaly

eruption
Seborrheic

dermatitis
Often also affects the scalp, postauricular sites, ears
hairline, eyebrows,

medium

cheeks, nasolabial folds, chin wrinkles
Squamous blepharitis
Ill-defined, white or variable yellowish scales
Can have

erythematous

patchy or thin

plates

Follicular

follicular prominence or digitate

keratosis
Psoriasis
Eyelids, temples, retro and preauricular skin, and/or sites of seborrheic dermatitis
It also affects the scalp, ears, elbows, knees,

nail

Well-

demarcated

erythematous plaques
White

scale

More persistent than seborrheic dermatitis
Atopic
eczema
It often affects

push-ups

: retroauricular folds, elbows and knees

Symmetrical

eyelid dermatitis,

perioral

skin (up to the lips)
intense itching
Sharp flare:

edema

erythema, crusts

fissure

Subacute: dry, pinkish

Chronic

: dryness,

lichenification

, Dennie Morgan creases (2 lower lid creases)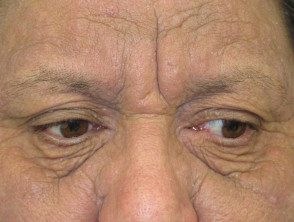 Atopic eczema
Psoriasis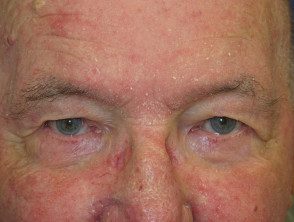 Seborrheic dermatitis
contact eczema
Acute, recurrent/intermittent or chronic presentation.
uneven, variable,

unilateral

or

asymmetric

dermatitis
Sharp edge if contact

irritating

dermatitis

Patch

positive if contact

allergy
Photosensitive

dermatitis
Exposed areas of face, arms, chest, legs.
spare parts under

hair

, eyelids, folds
Flashes after outdoor exposure
Can be drug induced
Face: localized areas of dermatitis.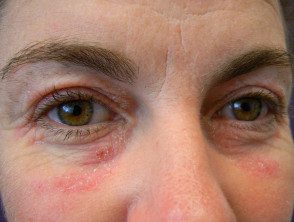 allergic contact eczema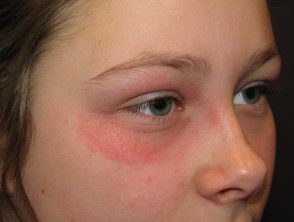 irritant contact eczema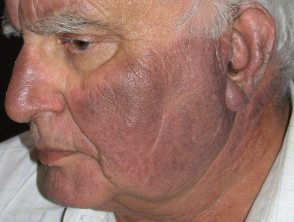 photosensitive dermatitis
Tinea faciei
asymmetric eruption

Cancel

setting

It is common
scaly border
positive mycology
Actinic keratosis
Located in temple sites exposed to the sun, forehead, nose, cheekbones, jaw angle, upper lip, lower vermilion lip
Persistent and tender scaly papules,

macules

plates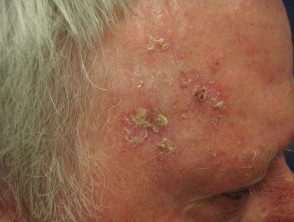 Actinic keratosis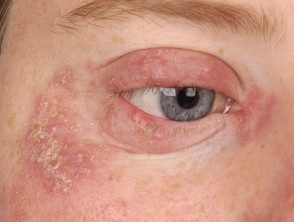 Tinea faciei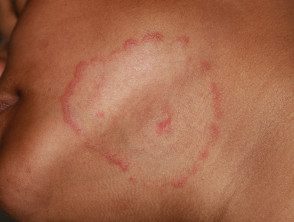 Tinea faciei
Cutaneous

lupus erythematosus

Discoid lupus erythematosus
Nose, cheeks, ears, lips, scalp

Circumscribed

plaques with follicular prominence, scale
Send-

inflammatory

pigmentation

,

atrophic

scars
CBC, ANA, ENA often normal
Lupus tumidus / Jessner lymphocytic infiltrate
Cheeks, upper trunk
Smooth to erythematous surface

dermal

plates
Cutaneous lupus erythematosus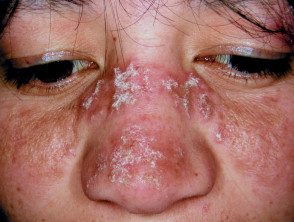 Discoid lupus erythematosus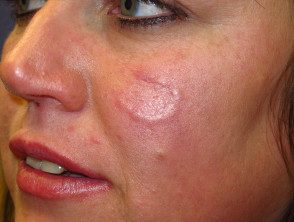 Lupus tumidus / Jessner's lymphocytic infiltrate
papulopustular

eruption
Acne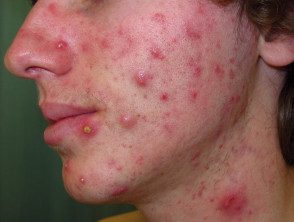 Acne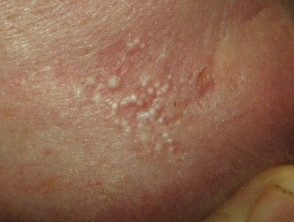 Closed comedones
Onset often at puberty
Usually symmetrical forehead, chin,

side

face nose
Mixed inflammatory and non-inflammatory lesions
papules,

pustules

,

nodules

,

comedones
Oral /
periorificial

dermatitis
Adult women usually wear expensive

cream

, often

current

corticosteroid
Often asymmetric first at perioral sites, then at

perinasal

and periocular sites
Save an inch of skin around the vermillion lips

grouped

erythematous papules and pustules in erythematous patches, scaly surface
It can occur in children.
Rosacea
Plus

predominant

in middle-aged adults
Medium facial: cheeks + nose, chin and forehead
Erythema, redness, papules, pustules,

telangiectasia

Rhinophyma causes enlargement of the nose in some patients.
Sensitive skin
Lesions may approach the lips.
Pseudofolliculitis of the beard
Acne
Follicular papules, pustules, curly hair.
Face: follicular eruption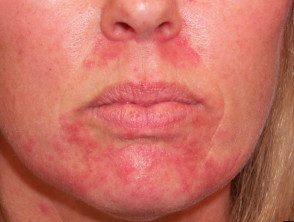 Perioral / periorificial dermatitis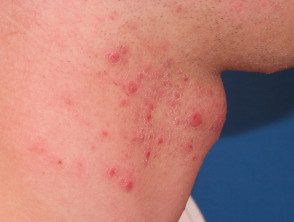 Pseudofolliculitis of the beard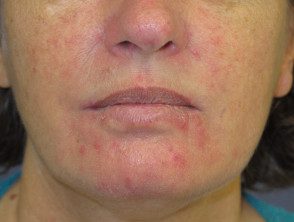 Rosacea
Face: erythema
The erythema is less pronounced on dark skin.
Dermatomyositis
Violaceous

eyelids – may be swollen

Poikiloderma

on the trunk and extremities
Gottron's papules on the fingers
You may have muscle weakness.
Redness
Intermittent redness when hot, embarrassed, or with certain foods.
Often lifelong trend
systemically well
Associated with rosacea
Sun tanning
site exposed to the sun
Spare eyelids, furrows, under the chin.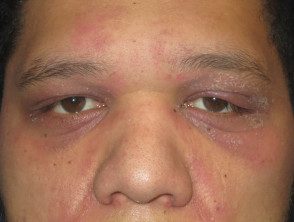 Dermatomyositis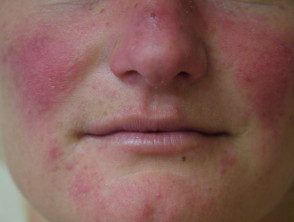 Redness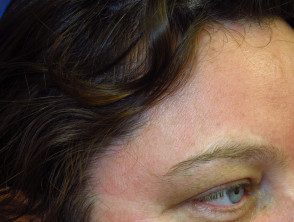 Sun tanning
Systemic

lupus erythematosus
Erythematous butterfly rash
Systemic symptoms: tiredness, lethargy,

arthralgia

Check CBC, ANA, ENA
Telangiectasia
May accompany redness

Vascular

dilatation
Various types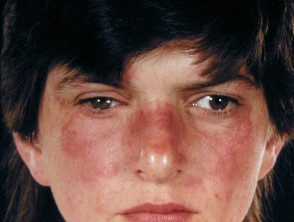 Systemic LE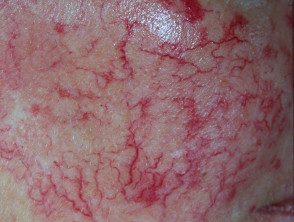 Telangiectasia
Face: brown macules/patches
Pigmentation is more pronounced on dark skin.
Solar
lentigines
Sun-exposed sites
small to large freckles
Well-defined flat or slightly scaly brown marks or thin plaques
Erythema dyschromicum perstans
Gray-brown discoloration
None

distribution

Borde distintivo, a veces rojo al principio
Melasma
Generalmente hembra adulta
Centrofacial

malar

y patrones mandibulares
Repuestos de párpados, poco frecuentes debajo de la línea de la mandíbula
Pigmentación simétrica con borde irregular
Post-inflammatory

pigmentation
Eccema anterior, psoriasis, acné, etc.
La distribución depende de la causa.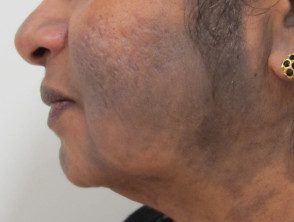 Erythema dyschromicum perstans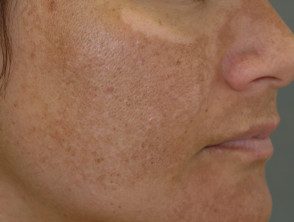 Melasma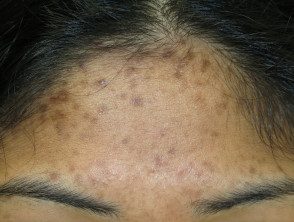 Pigmentación posinflamatoria
Face: pale or white macules/patches
Guttate hypomelanosis
Más comúnmente observado en las extremidades
Pityriasis

Sunrise
Little boy
Las mejillas

Hypopigmentation

, escala de luz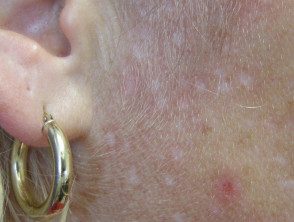 Guttate hypomelanosis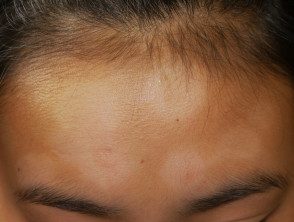 Pitiriasis alba
Hipopigmentación posinflamatoria
Eccema anterior, psoriasis, acné, etc.
La distribución depende de la causa.
Vitiligo
Muy a menudo periocular, perioral
Superficie blanca y lisa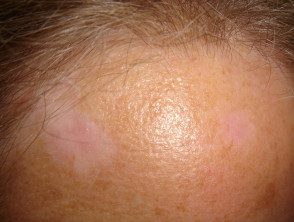 Hipopigmentación posinflamatoria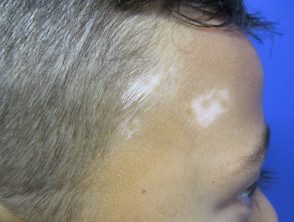 Vitiligo
Skin lesions
Granuloma

facial
Adulto de mediana edad
Placa o placas solitarias, espesas, lisas, de color marrón violáceo
Sarcoidosis
Placa infiltrada de color marrón amarillento a malva
Puede surgir dentro de los existentes

scar

El lupus pernio afecta la nariz y las orejas.
Sebaceous
hyperplasia
Mayormente> 40 años
Frente, templos
Pápulas amarillentas con hoyuelo folicular central.
Face: papules and plaques.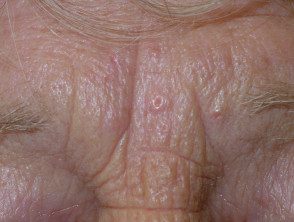 Sebaceous hyperplasia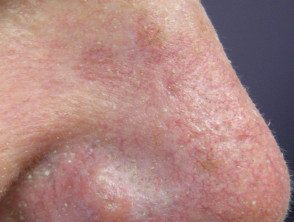 Facial granuloma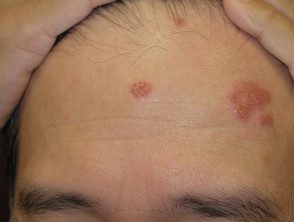 Sarcoidosis
solar comedones
Fumador, paciente mayor dañado por el sol
Periocular, pómulos, nariz, cuello.
Generalmente simétrica
Basal

cell

carcinoma
Ampliación lenta, destructiva

papule

,

nodule

o placa
Early

erosion

,

ulceration

and bleeding
Scaly

cell carcinoma
Agrandamiento del nódulo escamoso o con costras
solar comedones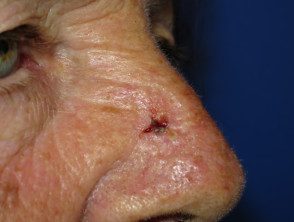 Basal cell carcinoma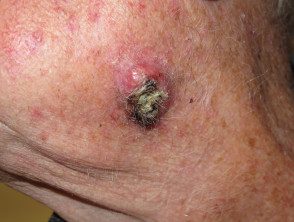 Squamous cell carcinoma
Annexed

tumors
Varios tipos y síndromes
Folicular o

eccrine

origen
Milia
Periorbital

o mejillas
Firme superficial pápulas pequeñas
Esparcidos en la frente, mejillas
Amarillento con dell central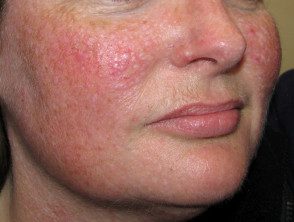 Birt-Hogg-Dubé syndrome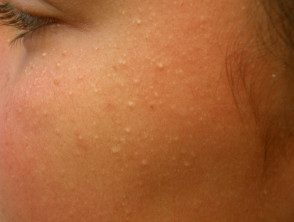 Milia