Facial rashes
Los pacientes a menudo se presentan con signos bastante leves cuando tienen un tratamiento facial injury or eruption – debido a la vergüenza – y el diagnóstico puede ser complicado.
Picazón significativa sugiere atopic dermatitis o dermatitis de contacto.
Cara:
erosions

/ /

crust



Herpes Simplex
Monomorphic

agrupados

vesicles

or crusted

papules

A menudo localmente

recurrent

en el mismo sitio
Hisopos: Herpes simple
Herpes infection
Acute

dermatomal

eruption

Doloroso: el dolor puede preceder a la erupción

Erythema

puede preceder a las vesículas
Hisopos: Herpes zoster
Impetigo
Agrandamiento irregular

license plate

Costras de color miel
Hisopos: Staphylococcus aureus +/- Streptococcus pyogenes
Cara: erosiones / costras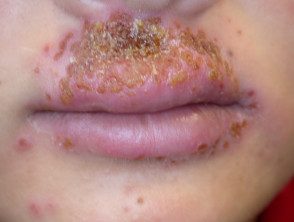 Herpes Simplex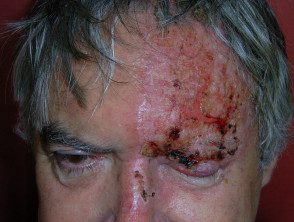 Herpes infection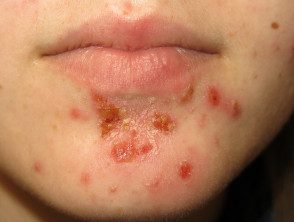 Impetigo
Seco o
scaly

eruption
Seborrheic

dermatitis
A menudo también afecta el cuero cabelludo, los sitios retroauriculares, las orejas
Rayita, cejas,

medium

mejillas, pliegues nasolabiales, arrugas de la barbilla
Blefaritis escamosa
Escamas mal definidas, blancas o amarillentas variables
Can have

erythematous

parches o finos

plates

Follicular

prominencia o digitado folicular

keratosis
Psoriasis
Párpados, sienes, piel retro y preauricular y / o sitios de dermatitis seborreica
También afecta el cuero cabelludo, las orejas, los codos, las rodillas,

nail

Well-

demarcated

placas eritematosas
Blanco

scale

Más persistente que la dermatitis seborreica
Atopic
eczema
A menudo afecta

push-ups

: pliegues retroauriculares, codos y rodillas

Symmetrical

dermatitis de los párpados,

perioral

piel (hasta los labios)
Picazón intensa
Llamarada aguda:

edema

eritema, costras

fissure

Subaguda: sequedad, rosado

Chronic

: sequedad,

lichenification

, Pliegues de Dennie Morgan (2 pliegues en los párpados inferiores)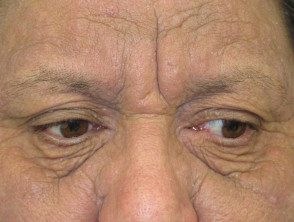 Atopic eczema
Psoriasis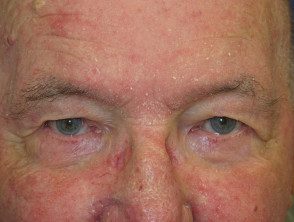 Seborrheic dermatitis
Eczema de contacto
Presentación aguda, recurrente / intermitente o crónica.
Irregular, variable,

unilateral

or

asymmetric

dermatitis
Borde afilado si contacto

irritating

dermatitis

Patch

da positivo si el contacto

allergy
Fotosensible

dermatitis
Zonas expuestas de cara, brazos, pecho, piernas.
Repuestos bajo

hair

, párpados, pliegues
Destellos después de la exposición al aire libre
Puede ser inducido por drogas
Cara: áreas localizadas de dermatitis.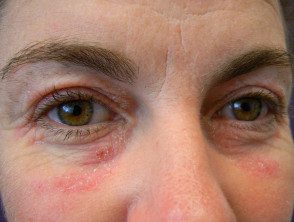 Eczema alérgico de contacto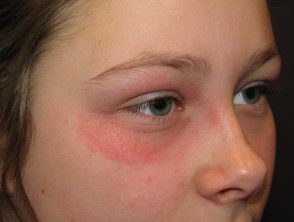 Eccema de contacto irritante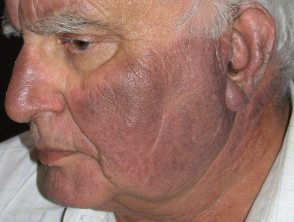 Dermatitis fotosensible
Tinea faciei
Erupción asimétrica

Cancel

setting

It is common
Borde escamoso
Micología positiva
Actinic keratosis
Ubicado en sitios de templos expuestos al sol, frente, nariz, pómulos, ángulo de la mandíbula, labio superior, labio bermellón inferior
Pápulas escamosas persistentes y sensibles,

macules

plates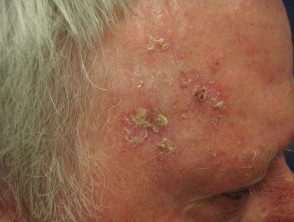 Actinic keratosis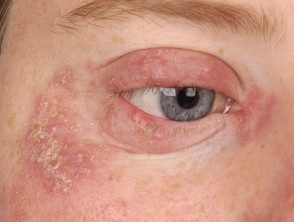 Tinea faciei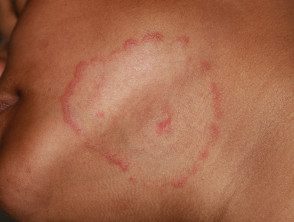 Tinea faciei
Cutaneous

lupus erythematosus

Discoid lupus erythematosus
Nariz, mejillas, orejas, labios, cuero cabelludo

Circumscribed

placas con prominencia folicular, escala
Send-

inflammatory

pigmentation

,

atrophic

scars
CBC, ANA, ENA a menudo normal
Lupus tumidus / Jessner lymphocytic infiltrate
Mejillas, tronco superior
Superficie lisa a eritematosa

dermal

plates
Cutaneous lupus erythematosus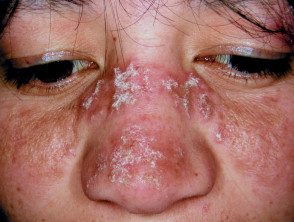 Discoid lupus erythematosus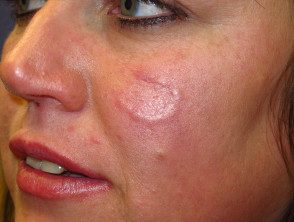 Lupus tumidus / infiltrado linfocítico de Jessner
Papulopustular

eruption
Acne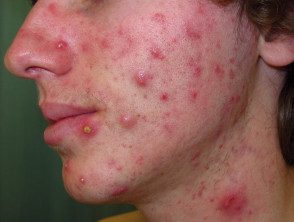 Acne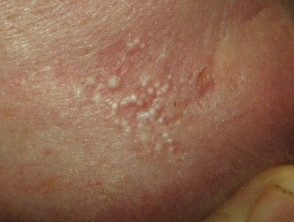 Closed comedones
Inicio a menudo en la pubertad
Por lo general, frente simétrica, mentón,

side

cara, nariz
Lesiones mixtas inflamatorias y no inflamatorias
Pápulas,

pustules

,

nodules

,

comedones
Perioral /
periorificial

dermatitis
Por lo general, las mujeres adultas usan cara

cream

, a menudo

current

corticosteroid
A menudo, asimétrico primero en sitios periorales, luego en

perinasal

y sitios perioculares
Ahorra un centímetro de piel alrededor de los labios bermellones

Agrupados

pápulas y pústulas eritematosas en parches eritematosos, superficie escamosa
Puede ocurrir en niños.
Rosacea
Plus

predominant

en adultos de mediana edad
Facial medio: mejillas + nariz, mentón y frente
Eritema, rubor, pápulas, pústulas,

telangiectasia

El rinofima causa agrandamiento de la nariz en algunos pacientes.
Piel sensible
Las lesiones pueden acercarse a los labios.
Pseudofolliculitis of the beard
Erupción cutánea
Pápulas foliculares, pústulas, cabello rizado.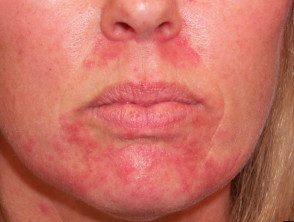 Dermatitis perioral / periorificial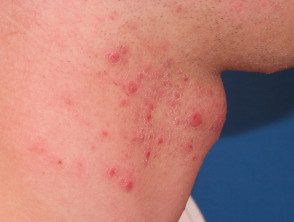 Pseudofolliculitis of the beard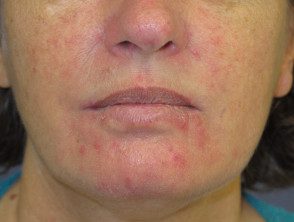 Rosacea
Cara: eritema
El eritema es menos pronunciado en la piel oscura.
Dermatomyositis
Violaceoso

párpados – pueden estar hinchados

Poikiloderma

en el tronco y las extremidades
Pápulas de Gottron en los dedos
Puede tener debilidad muscular.
Redness
Enrojecimiento intermitente cuando está caliente, avergonzado o con ciertos alimentos.
A menudo tendencia de por vida
Sistémicamente bien
Asociado con rosácea
Sun tanning
Sitio expuesto al sol
Repuestos de párpados, surcos, debajo de la barbilla.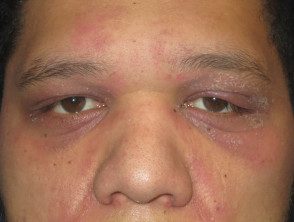 Dermatomyositis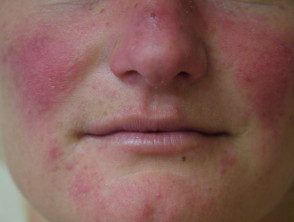 Redness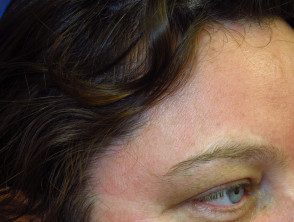 Sun tanning
Systemic

lupus erythematosus
Erupción eritematosa de mariposa
Síntomas sistémicos: cansancio, letargo,

arthralgia

Compruebe CBC, ANA, ENA
Telangiectasia
Puede acompañar enrojecimiento

Vascular

dilatación
Various types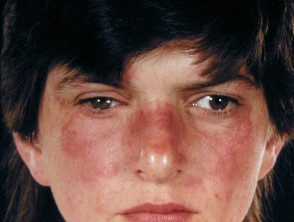 Systemic LE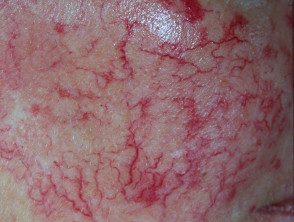 Telangiectasia
Cara: máculas / parches marrones
La pigmentación es más pronunciada en la piel oscura.
Solar
lentigines
Sitios expuestos al sol
Pecas pequeñas a grandes
Marcas marrones planas o ligeramente escamosas bien delimitadas o placas delgadas
Erythema dyschromicum perstans
Decoloración gris-marrón
None

distribution

Borde distintivo, a veces rojo al principio
Melasma
Generalmente hembra adulta
Centrofacial

malar

y patrones mandibulares
Repuestos de párpados, poco frecuentes debajo de la línea de la mandíbula
Pigmentación simétrica con borde irregular
Post-inflammatory

pigmentation
Eccema anterior, psoriasis, acné, etc.
La distribución depende de la causa.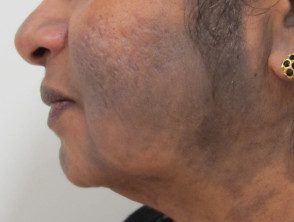 Erythema dyschromicum perstans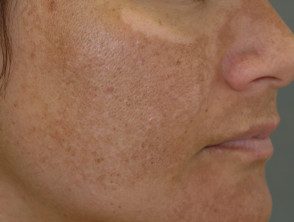 Melasma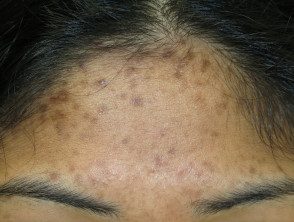 Pigmentación posinflamatoria
Cara: máculas / parches pálidos o blancos
Guttate hypomelanosis
Más comúnmente observado en las extremidades
Pityriasis

alba
Little boy
Las mejillas

Hypopigmentation

, escala de luz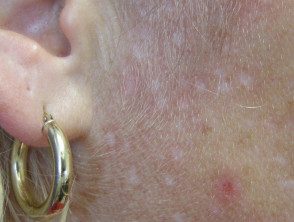 Guttate hypomelanosis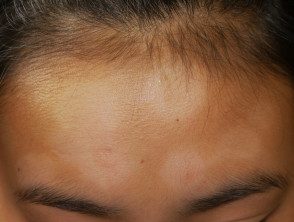 Pitiriasis alba
Hipopigmentación posinflamatoria
Eccema anterior, psoriasis, acné, etc.
La distribución depende de la causa.
Vitiligo
Muy a menudo periocular, perioral
Superficie blanca y lisa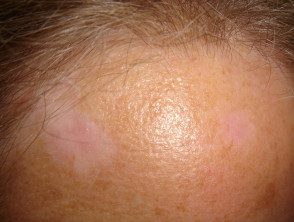 Hipopigmentación posinflamatoria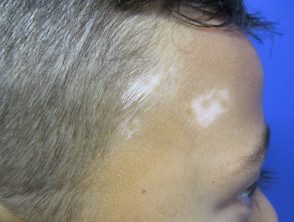 Vitiligo
Skin lesions
Granuloma

facial
Adulto de mediana edad
Placa o placas solitarias, espesas, lisas, de color marrón violáceo
Sarcoidosis
Placa infiltrada de color marrón amarillento a malva
Puede surgir dentro de los existentes

scar

El lupus pernio afecta la nariz y las orejas.
Sebaceous
hyperplasia
Mayormente> 40 años
Frente, templos
Pápulas amarillentas con hoyuelo folicular central.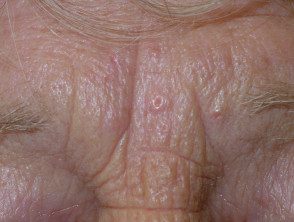 Sebaceous hyperplasia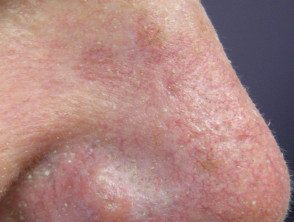 Facial granuloma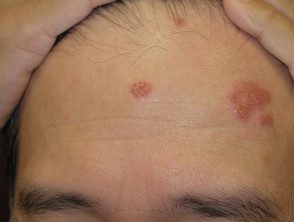 Sarcoidosis
Comedones solares
Fumador, paciente mayor dañado por el sol
Periocular, pómulos, nariz, cuello.
Generalmente simétrica
Basal

cell

carcinoma
Ampliación lenta, destructiva

papule

,

nodule

o placa
Early

erosion

,

ulceration

and bleeding
Scaly

cell carcinoma
Agrandamiento del nódulo escamoso o con costras
Comedones solares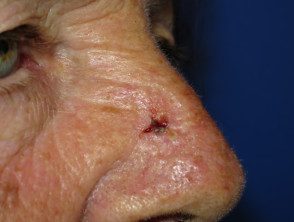 Basal cell carcinoma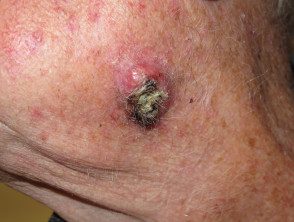 Squamous cell carcinoma
Annexed

tumors
Varios tipos y síndromes
Folicular o

eccrine

origen
Milia
Periorbital

o mejillas
Firme superficial pápulas pequeñas
Esparcidos en la frente, mejillas
Amarillento con dell central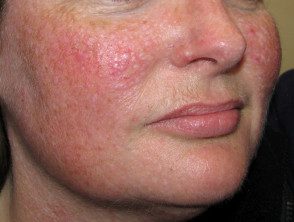 Birt-Hogg-Dubé syndrome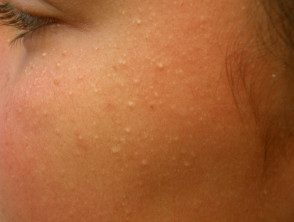 Milia