Ad

Skin cancer

Application to facilitate skin self-examination and early detection. read more.
Text: Miiskin.
Introduction
La espectroscopía de impedancia eléctrica (EIS) es utilizada por un dispositivo portátil de punto de atención llamado Nevisense ™ (Scibase AB, Estocolmo, Suecia) para analizar objetivamente las lesiones con sospecha de melanoma.
Espectroscopía de impedancia eléctrica Nevisense ™ *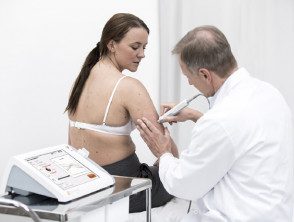 Procedimiento nevisense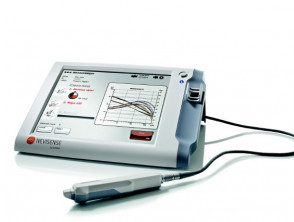 Dispositivo Nevisense
* Imágenes proporcionadas por Scibase
¿Qué es la espectroscopía de impedancia eléctrica?
El examen visual generalmente es suficiente al identificar la mayoría de los tipos de piel injury. Sin embargo, cuando se trata de atypical lesiones, un diagnóstico clínico basado solo en un examen visual puede plantear un desafío, lo que lleva a innecesarios splits o incluso faltas malignas.
La dermatoscopia utiliza un microscopio de superficie de la piel portátil para examinar las lesiones cutáneas. En manos expertas aumenta la posibilidad de un diagnóstico correcto, pero requiere capacitación y experiencia considerable.
En el análisis espectrométrico de las lesiones cutáneas, se utiliza un programa informático que calcula y extrae información sobre las células y estructuras de la piel. El método utiliza un haz de luz que penetra debajo de la superficie de la piel. Las imágenes claras tomadas con una cámara digital o un escáner de mano se introducen en una computadora para un análisis detallado.
En la espectroscopía de impedancia eléctrica, las diferentes propiedades eléctricas del tejido humano se utilizan para clasificar cellular estructuras y por lo tanto detectar tumores malignos.
La espectroscopía de impedancia electrónica SciBase es una tecnología patentada desarrollada en el Instituto Karolinska en Estocolmo, Suecia.
How
espectroscopía de impedancia eléctrica

worked?
Los tejidos de la piel tienen diferentes propiedades eléctricas bajo diferentes condiciones médicas.
En base a esto, es posible identificar una afección, como el melanoma, utilizando el método EIS único de Nevisense.

Espectroscopía de impedancia eléctrica

es una medida de la resistencia general dentro del tejido a las corrientes alternas de varias frecuencias.
Se aplica una señal eléctrica a través de la lesión de la piel utilizando un innovador sistema de electrodos en la punta de la sonda Nevisense ™.
Las frecuencias utilizadas por Nevisense ™ (1 kHz – 2.5 MHz) se relacionan con propiedades clínicamente relevantes, como la composición de entornos intra y extracelulares, la forma y el tamaño de las células y la composición de la membrana celular.
Para cubrir la lesión tanto en ancho como en profundidad, la medición se realiza a 35 frecuencias y cuatro configuraciones de profundidad sobre la lesión en un total de 10 permutaciones.
Al principio, se realiza una medición de referencia en una piel sana cerca de la lesión.
Este procedimiento se repite en la lesión a examinar.
El algoritmo avanzado de Nevisense clasifica la lesión en función de los datos de medición tanto de la lesión como de la referencia.
El clasificador Nevisense ™ proporciona una salida de puntaje EIS en la pantalla Nevisense ™ que refleja el grado de

atypia

identificado por el método
Los resultados de la inspección visual del melanoma sospechoso se pueden agregar a la información objetiva proporcionada por Nevisense ™ para llegar a una decisión clínica más informada.
¿Cuáles son las ventajas del análisis de espectroscopía de impedancia eléctrica?
Espectroscopía de impedancia eléctrica el análisis complementa los exámenes visuales de los médicos, particularmente en casos de cutaneous lesiones con signos clínicos poco claros de melanoma. Beneficios incluidos:
Un procedimiento rápido y sencillo.
Mayor precisión diagnóstica
Análisis objetivo
¿Qué evidencia clínica apoya el
effectiveness

de espectroscopía de impedancia eléctrica?
Espectroscopía de impedancia eléctrica

ha sido evaluado por más de una década, desde el desarrollo y prueba de principios hasta estudios clínicos en piel

Cancer

and

benign

skin lesions.
En un estudio multicéntrico, un estudio prospectivo y ciego realizado en 5 sitios de investigación de EE. UU. Y 17 europeos, se inscribieron en el estudio un total de 1,951 sujetos con 2,416 lesiones.
Todas las lesiones cutáneas elegibles en el estudio se examinaron con el sistema de espectroscopía de impedancia eléctrica Nevisense ™ y por escisión

biopsy

sujeto a

histopathological

evaluación.
1.943 lesiones fueron evaluables para el

primary

criterio de valoración de eficacia (incluyendo 265

melanomas

48

basal

carcinomas de células y siete

scaly

carcinomas de células).
Los resultados del estudio fundamental mostraron una sensibilidad del 97% para

evil one

melanoma y especificidad del 34,4%.
La sensibilidad observada para el cáncer de piel no melanoma fue del 100%.
Los valores predictivos positivo y negativo de Nevisense ™ fueron 21.1% y 98.2%, respectivamente.
La sensibilidad y la especificidad observadas para el melanoma de los histopatólogos del sitio de investigación fueron 85.0% y 98.1%, respectivamente.
No serio

adverse events

o efectos adversos inesperados del dispositivo se observaron durante todo el estudio.
Sin embargo, no hay datos suficientes para determinar el papel de Navisense ™ en el tratamiento de pacientes con melanoma.
¿Cuál es el uso clínico de
espectroscopía de impedancia eléctrica?
El sistema Nevisense ™ EIS está diseñado para usarse en lesiones cutáneas con una o más características clínicas o históricas de melanoma.
El sistema está diseñado para usarse cuando un clínico elige obtener información adicional al considerar

excision

.
No está destinado a ser utilizado para confirmar un diagnóstico clínico de melanoma.
Debe ser utilizado por médicos capacitados en el diagnóstico clínico del cáncer de piel.
¿Cuáles son las indicaciones para la espectroscopía de impedancia eléctrica?
Espectroscopía de impedancia eléctrica

está indicado para su uso en lesiones cutáneas primarias con un diámetro entre 2 mm y 20 mm.
Las lesiones deben tener piel intacta (es decir, lesiones no ulceradas y sin sangrado).
Las lesiones no deben estar en

hair

-zonas cubiertas.
El dispositivo no debe usarse en palmas, plantas, genitales, ojos o

mucous membrane

zones
Las lesiones deben estar desprovistas de cicatrices o recientes

trauma

.