What is psoriasis?
Psoriasis is a autoimmune skin disorder characterized by circumscribed, Red, scaly plates.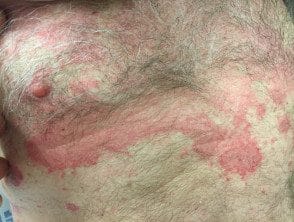 Chronic plaque psoriasis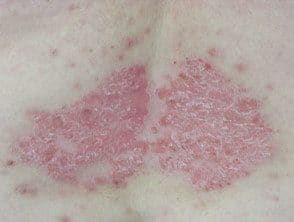 Chronic plaque psoriasis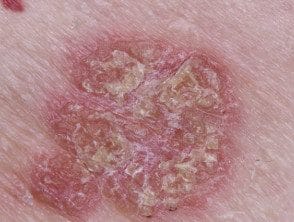 Chronic plaque psoriasis
What is Calcipotriol Dipropionate / Betamethasone Foam?
Calcipotriol dipropionate / betamethasone foam (trade name Enstilar®) es un current medicamentos recetados para la psoriasis en adultos mayores de 18 años. Enstilar es una formulación de espuma sin alcohol de las dos drogas en un envase presurizado. spray; esto permite la aplicación en grandes áreas [1,2].
Los Estados Unidos, la Unión Europea, Canadá, Australia, Nueva Zelanda y otros países han aprobado la espuma Enstilar (dipropionato de calcipotriol / betametasona 50 µg / g / 0.5 mg / g) para el tratamiento de license plate psoriasis.
La combinación de calcipotriol y dipropionato de betametasona también está disponible como gel, un ointment and a cream (nombre comercial Daivobet®, Dovobet® y otros).
How does calcipotriol/betamethasone dipropionate work?
El mecanismo de acción de los ingredientes se ha estudiado de forma independiente, así como en combinación. [1,3].
Calcipotriol
Calcipotriol hydrate is a synthetic vitamin D analog term.
In psoriasis, vitamin D and its

analogs

act primarily for

inhibit

keratinocytes

proliferation

and induce keratinocytes

differentiation

.
Calcipotriol works by reducing the number of new skin cells that are made and by causing the new cells to mature more quickly.
the underlying

antiproliferative

mechanism of vitamin D in

keratinocytes

involves the induction of transforming growth inhibitory factor

growth factor

-β and cyclin-

dependent

kinase inhibitors, with subsequent growth arrest in the G1 phase of the cell cycle.
Vitamin D also has a

immunomodulator

effect, suppressing the activation and differentiation of Th17/Th1 cells and inducing a Th2 response.
betamethasone dipropionate
Betamethasone dipropionate is a potent synthetic topical corticosteroid.
In psoriasis, corticosteroids suppress the immune system, particularly

inflammatory

cytokines

and

chemokines

, thus inhibiting

T cell

activation.
Betamethasone dipropionate works in psoriasis by reducing

inflammation

to relieve skin symptoms such as burning, pain, itching and swelling.
The combination of calcipotriol and betamethasone dipropionate
La espuma enstilar combina los efectos farmacológicos del calcipotriol y el dipropionato de betametasona. [2].
El tratamiento combinado aplana las placas de psoriasis, eliminando

climbing

y reduciendo las molestias.
In combination, calcipotriol and betamethasone dipropionate promote greater

anti-inflammatory

and anti

proliferative

effects than either component alone.
How is calcipotriol/betamethasone dipropionate administered?
Cada gramo de espuma Enstilar contiene 52.2 mcg de hidrato de calcipotrieno (equivalente a 50 mcg de calcipotrieno) y 0.643 mg de dipropionato de betametasona (equivalente a 0.5 mg de betametasona) [1,4].
La espuma enstilar se aplica una vez al día en las áreas afectadas por hasta 4 semanas.
El medicamento se aplica sosteniendo la lata al menos a 3 cm de la piel y rociando sobre el área afectada y frotando suavemente.
La espuma se puede rociar sosteniendo la lata en cualquier orientación, excepto horizontalmente.
Las manos deben lavarse a fondo después de aplicar espuma Enstilar en cualquier parte del cuerpo a menos que las manos estén siendo tratadas.
No use una dosis aumentada de espuma para compensar las dosis olvidadas.
Los pacientes deben dejar de usar la espuma cuando

control

sobre la psoriasis se logra.
Caution
No se deben usar más de 60 g de espuma Enstilar cada cuatro días.
No debe usarse con

occlusive

apósitos a menos que lo indique un médico.
La espuma no es para uso oral, oftálmico o intravaginal.
Evite el uso en la cara, la ingle o

armpits

or if the skin

atrophy

está presente en el sitio de tratamiento.
Treated skin areas should be protected from sunlight and ultraviolet rays (

UV

) rayos, por ejemplo, usando ropa protectora contra el sol.
No se deben usar corticosteroides tópicos adicionales en áreas tratadas con espuma Enstilar.
Which are the
contraindications

para usar espuma de dipropionato de calcipotriol / betametasona?

La espuma de dipropionato de calcipotriol / betametasona está indicada para la psoriasis en placas. El principal contraindication a espuma de dipropionato de calcipotriol / betametasona es hypersensitivity the active substance or any of the excipients [1,5].

It should not be used for acute types of psoriasis like generalized pustular psoriasis or erythrodermic psoriasis.

La espuma de dipropionato de calcipotriol / betametasona tampoco debe usarse para la piel afectada con:
viral, fungal, bacterialor parasitic skin infections

Tuberculosis (TB)

Newspaper

dermatitis

Ichthyosis

Acne

Rosacea
Antes de usar la espuma Enstilar, los pacientes deben informar a los médicos tratantes en las siguientes circunstancias:
if they have calcium

metabolism

disorder
If they are receiving phototherapy.
Si están embarazadas o planean quedar embarazadas.
Si están amamantando o planean amamantar.
¿Cuáles son las advertencias y precauciones para el uso de espuma de dipropionato de calcipotriol / betametasona?
Inflamabilidad
Los propulsores en la espuma de dipropionato de calcipotriol / betametasona son inflamables. Se instruye a los pacientes para evitar incendios, llamas y fumar durante e inmediatamente después de la aplicación. Mantenga la espuma en un lugar fresco y seco, guárdela por debajo de 25 ° C y aléjela de la luz solar. No exponga el recipiente a temperaturas superiores a 50 ° C, ya que está presurizado y es extremadamente inflamable. [1,3].
Hypercalcemia and hypercalciuria
Se ha observado hipercalcemia e hipercalciuria con el uso de espuma de dipropionato de calcipotriol / betametasona y es más probable si se exceden las dosis recomendadas [1].
If hypercalcaemia or hypercalciuria develops, treatment should be withheld until calcium metabolism parameters have normalized.
the incidence de hipercalcemia e hipercalciuria después del tratamiento con espuma de dipropionato de calcipotriol / betametasona durante más de 4 semanas no se ha evaluado.
effects on the
endocrine

system

Systemic la absorción de corticosteroides tópicos, como el dipropionato de betametasona, rara vez puede producir reversibilidad hypothalamicsuppression of the pituitary-adrenal (HPA) axis with the potential for glucocorticosteroid insuficiencia durante el tratamiento o al retirar el corticosteroide tópico. Factores que predispose la supresión del eje del paciente con HPA incluye el tratamiento de grandes superficies, el uso prolongado de vendajes oclusivos, la barrera cutánea alterada, la insuficiencia hepática y la edad temprana [1].

Systemic effects of topical corticosteroids may also include Cushing's syndrome, hyperglycemiay glucosuria.

Los efectos secundarios locales de los corticosteroides tópicos incluyen:
Cutaneous

atrophy
Stretch marks

Telangiectasia

Dryness
perioral dermatitis
Secondary

infection

Miliaria
El diagnóstico erróneo de la infección por hongos puede conducir a la tiña de incógnita.
Allergic contact dermatitis
Allergy a los corticosteroides tópicos rara vez puede provocar dermatitis de contacto alérgica, que también se ha informado que ocurre con calcipotriol tópico [1].
Uso de espuma de dipropionato de calcipotriol / betametasona en poblaciones específicas
Old people
En los ensayos clínicos, no se han observado diferencias generales en la exposición, la seguridad o la eficacia de la espuma Enstilar entre los sujetos mayores y los más jóvenes. Sin embargo, en estos ensayos, el número de sujetos de 65 años o más no fue suficiente para determinar si respondieron de manera diferente a los sujetos más jóvenes. [1,3].
Children
Safety and effectiveness de espuma enstilar en pediatric pacientes menores de 18 años aún no se han establecido.
Debido a una mayor proporción de superficie de la piel con respecto a la masa corporal, los niños menores de 12 años corren un riesgo particular de sufrir efectos adversos sistémicos cuando son tratados con corticosteroides tópicos, incluido el retraso del crecimiento [1,3].
Pregnant women
No existen estudios adecuados y bien controlados en mujeres embarazadas. Las mujeres embarazadas fueron excluidas de los estudios clínicos realizados con espuma Enstilar.
La espuma enstilar solo debe usarse durante el embarazo si el beneficio potencial para la paciente justifica el riesgo potencial para el feto.
No se han realizado estudios de reproducción animal con espuma Enstilar. Sin embargo, se ha demostrado que el calcipotriol es fetotóxico y se ha demostrado que el dipropionato de betametasona es teratogenic en animales cuando se administra por vía sistémica [1,3].
Nursing mothers
No se sabe si el calcipotriol o los corticosteroides administrados por vía tópica podrían producir una absorción sistémica suficiente para producir cantidades detectables en la leche humana.
Debido a que muchos medicamentos se excretan en la leche humana, se debe tener precaución cuando se administra espuma Enstilar a una mujer lactante.
Se debe indicar a la paciente que no use la espuma en el seno cuando amamanta [1,3].
¿Cuáles son las posibles interacciones farmacológicas de la espuma de dipropionato de calcipotriol / betametasona?
No se han realizado estudios de interacción. [1].
No se debe usar espuma enstilar concomitantly con los siguientes medicamentos, ya que ocasionalmente pueden causar niveles excesivos de calcio en la sangre:
Colecalciferol
Citrato de calcio
Acetato de calcio
Clorotiazida
Gluconato de calcio
Clortalidona
Calcitriol
¿Cuáles son los posibles efectos secundarios de la espuma de dipropionato de calcipotriol / betametasona?
Efectos adversos en <1% de los receptores asociados con el uso de Enstilar en ensayos clínicos incluidos [6,7]:
Irritación del sitio de aplicación
Application site

pruritus

Folliculitis

Hypopigmentation

Hipercalcemia

Urticaria

Exacerbation

psoriasis
Because clinical trials are conducted under highly variable conditions, adverse reaction The rates observed in clinical trials of one drug cannot be directly compared with the rates in clinical trials of another drug and may not reflect the rates observed in practice.
New Zealand approved data sheets are the official source of information for these prescription drugs, including approved uses and risk information. See the New Zealand individual data sheet on the Medsafe website.