What is a
exanthema

?

Exanthem es el nombre médico dado a un extended eruption eso suele ir acompañado de systemic symptoms like fever, discomfort y dolor de cabeza Generalmente es causada por una afección infecciosa, como un virus, y representa una reacción a un toxin produced by the organism, daño a la piel por el organismo, o una respuesta inmune.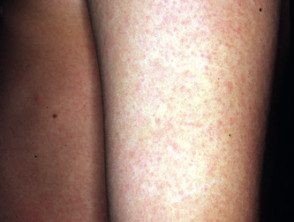 Exantema viral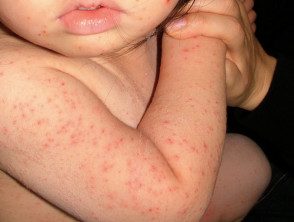 Exantema viral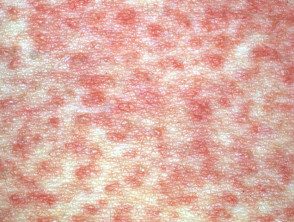 Exanthem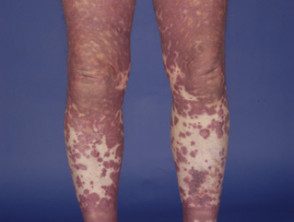 Exanthem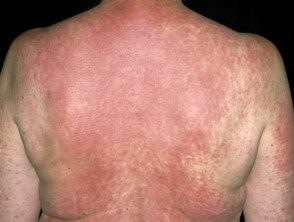 Exanthem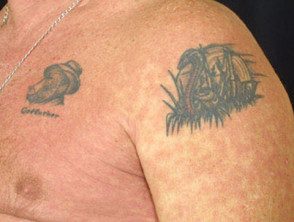 Exanthem
Exantema viral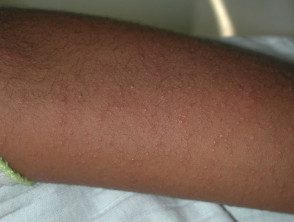 Exantema viral
Exantema viral
¿Qué causa los exantemas?
Los exantemas durante la infancia son muy comunes y generalmente se deben a infecciones virales específicas:
Chicken pox (chicken pox)
Sarampión (morbillivirus)
Rubéola (virus de la rubéola)

Roséola (virus del herpes 6B)

Erythema

infectiosum (parvovirus B19).
Los exantemas virales también incluyen:
Acute

virus de inmunodeficiencia humana

infection

syndrome

Viruela
Viral

hepatitis

Mononucleosis infecciosa y erupción de aminopenicilina (virus de Epstein Barr)

Papular

síndrome de guantes y calcetines purpúricos (parvovirus B19)

Pityriasis

rosea (virus del herpes 6 y 7)
Papular acrodermatitis of childhood.
Erythema multiforme

Unilateral

exantema tardotorácico
Algunos casos de agudos

generalized

exanthematous

pustulosis

Examen viral inespecífico.
Exantemas causados ​​por bacterial las infecciones incluyen:
Infecciones por toxina estafilocócica

Toxic

síndrome de shock (TSS)

Síndrome de piel escaldada estafilocócica (SSSS)

Infecciones por toxina estreptocócica

escarlatina
Síndrome de shock tóxico estreptocócico (STSS)
Otras infecciones específicas que pueden dar lugar a exantemas incluyen:
Neumonía por micoplasma

Enfermedades de rickettsias.
Los exantemas también pueden deberse a un medicamento (especialmente antibióticos y anti-esteroides no esteroideos).inflammatory drogas). Ver:
Morbid

drug

eruption

Drug hypersensitivity síndrome.
Acute connective tissue Las enfermedades pueden presentarse con un exantema.
Systemic lupus erythematosus
Inicio sistémico

youth

arthritis

Adult-onset disease
Algunos exantemas son de causa desconocida, por ejemplo, la enfermedad de Kawasaki.
¿Cuáles son los signos y síntomas de los exantemas?
Los exantemas no específicos aparecen como manchas o manchas y pueden o no causar picazón. La erupción generalmente es generalizada y puede ser más extensa en el tronco que las extremidades. En la mayoría de los casos, antes de que aparezca la erupción, los pacientes pueden tener síntomas de malestar general que incluyen:
Fever
Discomfort
Headache
Loss of appetite
Abdominal pain
Irritability
Dolores y molestias musculares.
Estos signos y síntomas pueden variar según la causa del exantema. Ver causas individuales para más detalles. Los exantemas virales a menudo ocurren en pequeños epidemics, por lo que puede haber otros niños afectados al mismo tiempo.
Diagnóstico de exantemas
Muchos exantemas tienen patrones distintos de erupciones y prodromal (pre-erupción) síntomas que permiten el diagnóstico clínico.
Consulte los recursos del laboratorio local para determinar las pruebas más adecuadas en caso de duda, especialmente en una paciente muy enferma o si el problema surge durante el embarazo o immunosuppression.
Las pruebas pueden incluir:
Hisopo viral para viral

culture

,

immunofluorescence

and

PCR

Exámenes de sangre para

serology

PCR

RNA

/ /

DNA

, ANA y tejido

antibodies

Genotyping
¿Cuál es el tratamiento para los exantemas?
El tratamiento de exantemas específicos dependerá de la causa.
El tratamiento sintomático puede incluir:
Paracetamol para reducir la fiebre.
Moisturizing

emollients

para reducir la picazón