¿Qué son las rosetas?
Las rosetas son una forma específica de una estructura blanca brillante vista con dermatoscopia polarizada. También se conocen como terrones de cuatro puntos.
¿Cómo son las rosetas a través del dermatoscopio?
Las rosetas consisten en fNuestros puntos blancos dispuestos en un cuadrado que se asemeja a un trébol de cuatro hojas y solo se pueden ver con luz polarizada. Siempre están orientados en el mismo ángulo.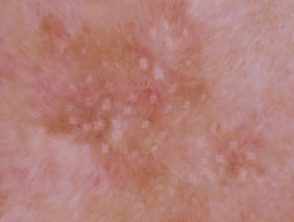 Rosetones en piel dañada por el sol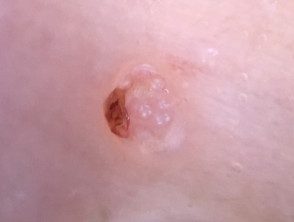 Rosetas vistas en el molusco contagioso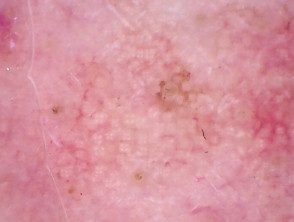 Rosettes in actinic keratosis
¿En qué lesiones se encuentran los rosetones?
Although en fPrimero se cree que es específico para actinic keratosis and scaly cell carcinoma, las rosetas a veces se ven en otsu lesiones así como en piel normal. Rosetones se encuentran más comúnmente en:
Queratosis actínica (AK)

Carcinoma delgado de células escamosas (SCC)

Piel dañada por el sol

Tumores como

basal

carcinoma de células (BCC) y

melanoma

Molluscum contagiosum

Dermatofibroma
Which is the
histological

explicación de rosetas?

La explicación histológica exacta de las rosetas no está clara, pero toye, se cree que se deben a una iinteracción entre luz polarizada y estrecha curb-llenado, o fibrotic attached openings Haspeslagh et al encontraron que srosetas de centro comercial (0.1–0.2 mm) correspondieron a material córneo concéntrico en follicular and eccrine conductos en el infundibular rosetas niveladas y más grandes (0.3–0.5 mm) a peripheral concéntrico fibrosis [1].