El rostro comienza a mostrar signos de envejecimiento cuando las arrugas se hacen más marcadas, los surcos se profundizan, la rama del maxilar pierde definición, los pómulos pierden volumen, el cuello pierde definición y gana volumen, los labios se afinan y alargan y los párpados presentan bolsas y exceso de piel.
Cuando este proceso comienza y sus signos son incipientes es factible tratarlo de manera conservadora o mínimamente invasiva.
Si usted nota que su rostro ha perdido la figura del óvalo, que la rama del maxilar ha perdido definición y que en el cuello tiene un exceso importante de piel y grasa, es probable que necesite un lifting facial.
Estiramiento facial
Este procedimiento reposiciona las estructuras, la cara recupera su óvalo y el paciente gana frescura y juventud.
El lifting de cara y cuello se realiza con anestesia local y sedación, mayormente en forma ambulatoria. El tiempo aproximado para reanudar la actividad es de 10 días.
Generalmente para lograr un resultado natural, agradable y armonioso, el lifting de cara y cuello se asocia a otros procedimientos tales como:
Lifting facial precio
El valor de la consulta con el Dr. Ricardo Hoogstra es de $30.000 pesos . Si posteriormente decide realizar el tratamiento se le descontará este valor del monto total.
El costo del Lifting de cara y cuello es de u$d 6.500 (IVA no incluido) .
Duración del procedimiento
El tiempo de cirugía es de aproximadamente 90 minutos. El tiempo de permanencia en la clínica aproximadamente 6 Hs.
Este tratamiento lo realiza el Dr. Ricardo Hoogstra en Hoogstra Centros Médicos sucursal Caballito.
Lifting facial antes y después
En estos pacientes podemos ver como la reposición de las estructuras faciales brinda armonía, juventud y belleza al rostro. Los resultados son naturales porque lo único que se busca es recuperar su estado anterior.
En el ejemplo siguiente, en la imagen pre tratamiento, se muestra cómo en el proceso de envejecimiento, las estructuras faciales van perdiendo definición y la cara toma el aspecto mas de un cuadrado que de un óvalo.
El óvalo es juventud, el cuadrado nos demuestra la laxitud de las estructuras superficiales y profundas y el desplazamiento de estos tejidos desde la cara al cuello. En la foto del pos operatorio la paciente recupera la forma del óvalo. Esto se logra a través de una reposición de las estructuras faciales superficiales (piel) y profundas (músculos y aponeurosis).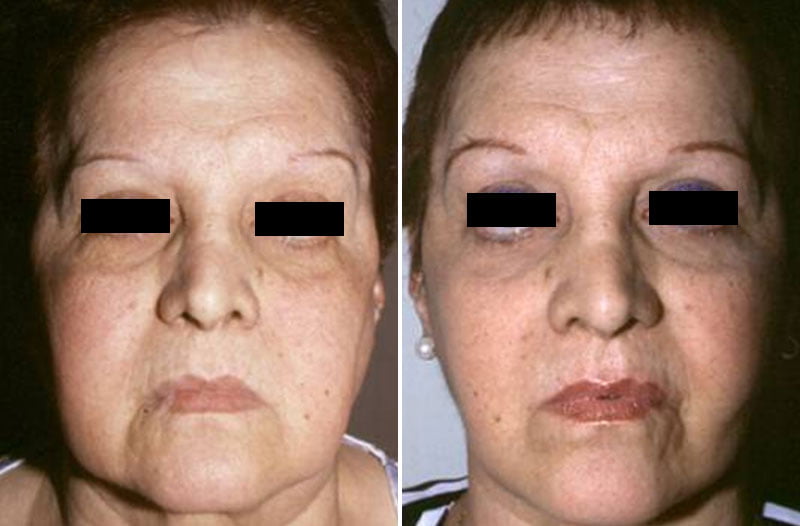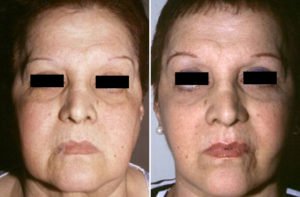 En las siguientes fotos, se realizo en la paciente un Lifting de cara y cuello y lipo láser del maxilar y del cuello. Podemos observar la naturalidad del resultado y la ausencia de cicatrices visibles. No se realizó relleno de los surcos naso labiales que habrían mejorado aún mas el resultado obtenido.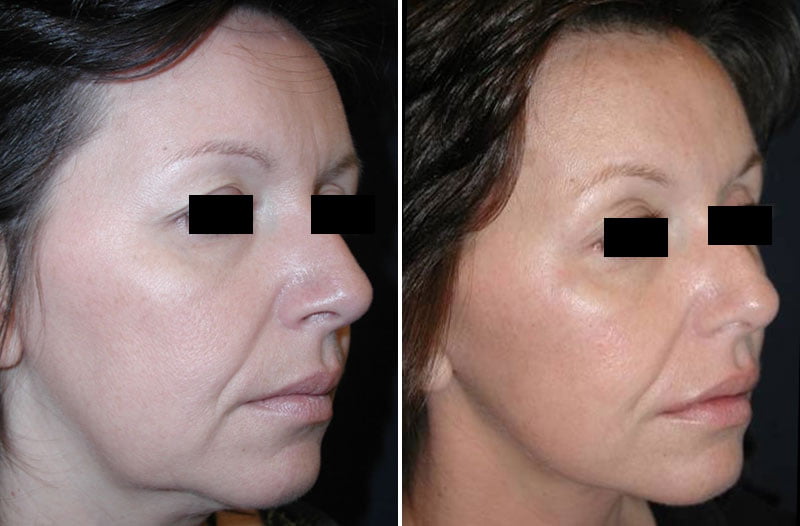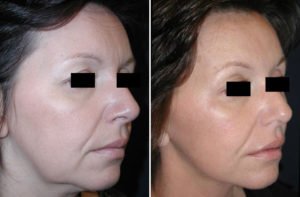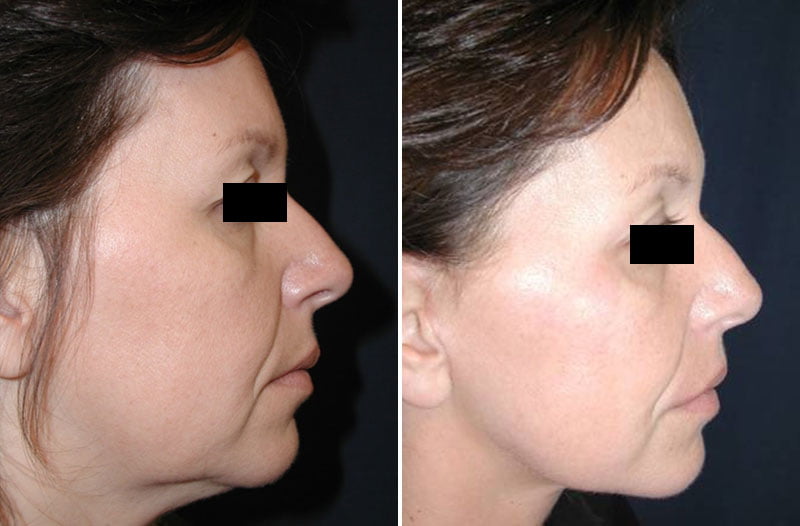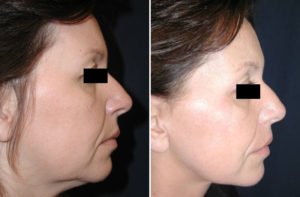 En la mayoría de estos pacientes se realizó también relleno de los surcos naso labiales y labio mentoneanos. En el proceso de envejecimiento la mayoría de las estructuras del rostro se desplazan hacia abajo, mientras que las centro faciales se profundizan, esto se produce por reabsorción de los huesos.
Es por tal motivo que la mayoría de las veces que realizamos un lifting debemos utilizar rellenos, los cuales se pueden utilizar muchas veces antes de la cirugía para demorar el lifting. A veces se pueden realizar durante el procedimiento como hicimos con estos pacientes y otras veces se realizan en el pos operatorio.
Opiniones de nuestros pacientes
Lifting facial
El lifting además de ser indoloro tiene un resultado natural y rejuvenecedor, no los rostros hechos con sello ni cara de susto. El personal administrativo adorable. Josefina y Estela genias. Doctor lo felicito. Volvería nuevamente. Quitó totalmente una espantosa cicatrizde cesárea que defiguraba mi abdomen. Cargué con ella por 40 años. Usted lo logró. Además un ser humano muy soludario. Lo recomiendo.
Raquel Graciela Navarro
Prótesis de mamas y lifting
El Dr. Hoogstra es mi cirujano plástico desde hace más de 25 años. Él fue quien me realizó la primera cirugía de implantes mamarios hasta qué las reemplazó este año. ¡22 años con las mismas!
Me hizo un lifting de cara y cuello qué nadie nota la operación y yo me siento fantástica. Más que excelente profesional y un increíble ser humano.
Sandra Moras
Dudas y consultas
Si tiene alguna duda de índole medica envié un correo electrónico a [email protected]  . En este mail solo se recibirán consultas médicas. No se atienden consultas sobre turnos, pagos y temas administrativos.
Si tiene dudas sobre el monto de la cirugía Le puede enviar un correo electrónico [email protected]  O por WhatsApp: 0054 9 11 5037 9821
Para coordinar fechas operatorias enviar correo a Josefina Nuñez [email protected] o un whatsapp  005491169459535
Telefónicamente los días lunes, jueves y viernes de 8 a 15 hs a los siguientes números telefónicos.
0054 11 4 901 6690

0054 11 4 904 3434

0054 11 4 904 0880
Links de referencia
Fitzpatrick, R. E., Goldman, M. P., Satur, N. M., & Tope, W. D. (1996). Pulsed carbon dioxide laser resurfacing of photoaged facial skin. Archives of dermatology, 132(4), 395-402.
Alster, T. S. (1999). Cutaneous resurfacing with CO2 and erbium: YAG lasers: preoperative, intraoperative, and postoperative considerations. Plastic and reconstructive surgery, 103(2), 619-32.
Manaloto, R. M. P., & Alster, T. (1999). Erbium: YAG laser resurfacing for refractory melasma. Dermatologic surgery, 25(2), 121-123.