Los centros médicos cerrarán por vacaciones desde el 20 de Diciembre hasta el 17 de Enero. Rogamos a los pacientes sacar turnos en fechas distintas a las mencionadas.
En el caso de turnos para cirugía plásticas, solicitamos que saquen turno con al menos 15 días de antelación al 20 de Diciembre, dado que en algunos casos se requiere una consulta post-operatorio.
Lo mas novedoso en el tratamiento de la psoriasis es el Láser  Pallas 311 nm. Desde hace mucho tiempo se sabia  que la longitud de onda mas efectiva para el tratamiento de la psoriasis es 311 nm. Luego de muchos años de investigación la firma Laseroptek logro obtener el primer Laser de Titanio Zafiro con una longitud de onda de 311 nm.

¿Qué es la psoriasis?
La psoriasis es una enfermedad inflamatoria, crónica que se manifiesta clínicamente por enrojecimiento, engrosamiento, escamas y picazón de la piel. Es causada por factores autoinmunes  donde se observan  un aumento anormal de  células T y citoquinas.
Por otra parte hay un aumento desmedido en la producción de  queratinocitos que lleva al engrosamiento desmedido de la piel ( Hiperqueratosis ).
El engrosamiento de la piel psoriásica se debe a un aumento en la producción de queratinocitos. En una piel normal los queratinocitos se reproducen y descaman en 28 días, este proceso en una piel psoriásica se completa solo en 4 días.
Esto lleva a la producción de Placas gruesas y abundantes escamas. El Láser PALLAS produce APOPTOSIS en las placas psoriásica. La apoptosis es una forma de muerte celular programada. La apoptosis  elimina las células afectadas  y mantiene el equilibrio. Clínicamente podemos observar atenuación de las placas y de las escamas. La Psoriasis también se caracteriza por un gran proceso inflamatorio.
Se puede comprobar un aumento anormal de:
Células T  que son parte del sistema inmunitario.
Las citoquinas. Su acción fundamental consiste en la regulación del mecanismo de la inflamación.
Células de Langerhans son extremadamente eficaces para alertar al sistema inmune de la presencia de patógenos y otros materiales extraños.
Durante el tratamiento con Láser Pallas se puede observar una disminución del proceso inflamatorio de la piel. En los estudios clínicos demuestra una disminución de las Células T, Citoquinas y Células de Langerhans lo que marca una mejoría del proceso inflamatorio.
El Láser PALLAS es el primer Láser de estado solido aprobado por la FDA y por el ANMAT para el tratamiento de vitíligo, psoriasis, dermatitis atópicas y leucodermas.
Ventajas del Láser PALLAS sobre Láser Excimer
La longitud de onda de 311 nm del Laser Pallas es mas efectiva que la de 308 nm que entregan los Láser  Excimer.
El Láser Pallas al ser de estado solido y no utilizar gas hace que operativamente sea mas seguro para el operador y para el paciente.
El Láser PALLAS al no tener consumibles permite realizar tratamientos mas efectivos y que también  mas económicos.
El Láser PALLAS nos permite realizar un tratamiento efectivo y selectivo del área afectada., por tal motivo no produce daño de los tejidos cercanos como se observa con los tratamientos Fototerapicos A Y B.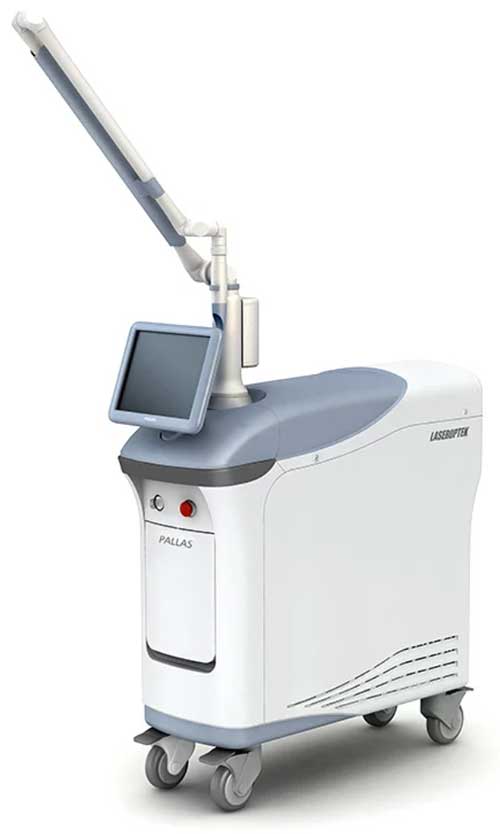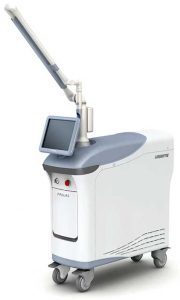 El Laser Pallas se dirige a la placa de psoriasis disminuyendo la descamación y el proceso inflamatorio.
El tratamiento de la psoriasis con el Láser Pallas requiere menos sesiones que la fototerapia tradicional, porque se usa una luz ultravioleta B más potente y localizada.
El Tratamiento con el Láser Pallas no presenta los efectos secundarios observados con los tratamientos de Fototerapia de Luz Ultravioleta A y B.
El tratamiento con el láser Pallas Puede presentar enrojecimiento y ampollas pero son localizados y desaparecen rápidamente. El tratamiento con Láser Pallas No conlleva los efectos de envejecimiento del la piel y el riesgo de cáncer de piel que se presenta con la Fototerapia de Luz Ultravioleta A y B .
Los tratamientos que teníamos disponibles antes de la aparición del Láser Titanio-Zafiro de estado solido Pallas 311 nm son los siguientes.
Fototerapia Ultravioleta A y B.
Laser Eximir 308 nm.
Cremas tópicas.
Medicación Oral.
Fototerapia ultravioleta A y B
Estos tratamientos reducen la inflamación y la formación de escamas. Los efectos secundarios a largo plazo de estas fototerapias son los siguientes:
Piel seca y arrugada.
Manchas y  pecas.
Sensibilidad elevada al sol.
Mayor riesgo de tener cáncer de piel, como melanoma
Las radiaciones ultravioletas se dividen en 3 tipos.
UVC 100 a 280 nm
UVB 280 a 315 nm
UVA 315 a 400 nm
Las radiaciones que van de 280 a 300 nm un rango del UVB suelen producir mucho enrojecimiento, quemaduras y incremento de cáncer de piel.
Las longitudes de ondas mas efectivas y menos dañinas para el tratamiento de la psoriasis y el vitiligo van de los 295 a los 313 nm. Para conseguir una mayor efectividad terapéutica con menos efectos indeseados se desarrollo  el  láser de estado solido de 311 nm ( PALLAS )
Costo del tratamiento láser de psoriasis
El costo del tratamiento es de $3000 por sesión. El mismo es realizado por nuestro equipo de dermatólogos en nuestro centro médico de caballito
Dudas y consultas
Si  tiene alguna duda de índole médica envié un correo electrónico a [email protected]  . En este mail solo se recibirán consultas médicas. No se atienden consultas sobre turnos, pagos y temas administrativos.
Telefónicamente los días lunes, jueves y viernes de 8 a 15 hs a los siguientes números telefónicos.
0054 11 4 901 6690

0054 11 4 904 3434

0054 11 4 904 0880
Bibliografía
Fototerapia – Tratamiento eficiente para la psoriasis
Slaper, H., & Schothorst, A. A. (1986). Risk evaluation of UVB therapy for psoriasis: comparison of calculated risk for UVB therapy and observed risk in PUVA-treated patients. Photo-dermatology, 3(5), 271-283.
Parrish, J. A., & Jaenicke, K. F. (1981). Action spectrum for phototherapy of psoriasis. Journal of Investigative Dermatology, 76(5), 359-362.