Los centros médicos cerrarán por vacaciones desde el 20 de Diciembre hasta el 17 de Enero. Rogamos a los pacientes sacar turnos en fechas distintas a las mencionadas.
In the case of shifts for plastic surgery, solicitamos que saquen turno con al menos 15 días de antelación al 20 de Diciembre, dado que en algunos casos se requiere una consulta post-operatorio.
The newest in the treatment of psoriasis is the Pallas 311 nm Laser. It has long been known that the most effective wavelength for the treatment of psoriasis is 311 nm. After many years of research, Laseroptek firm managed to obtain the first Sapphire Titanium Laser with a wavelength of 311 nm.

What is psoriasis?
Psoriasis is a chronic, inflammatory disease that manifests clinically by redness, thickening, scales, and itchy skin. It is caused by autoimmune factors where an abnormal increase in T cells and cytokines are observed.
On the other hand, there is an excessive increase in the production of keratinocytes that leads to excessive thickening of the skin (hyperkeratosis).
The thickening of the psoriatic skin is due to an increase in the production of keratinocytes. In normal skin, keratinocytes reproduce and flake in 28 days, this process in psoriatic skin is completed only in 4 days.
This leads to the production of thick plates and abundant scales. The PALLAS Laser produces APOPTOSIS in psoriatic plaques. Apoptosis is a form of programmed cell death. Apoptosis kills the affected cells and maintains balance. Clinically we can observe attenuation of the plates and scales. Psoriasis is also characterized by a large inflammatory process.
An abnormal increase in:
T cells that are part of the immune system.
Cytokines. Its fundamental action consists in regulating the mechanism of inflammation.
Langerhans cells are extremely effective in alerting the immune system to the presence of pathogens and other foreign materials.
During Pallas Laser treatment, a decrease in the inflammatory process of the skin can be observed. In clinical studies it shows a decrease in T Cells, Cytokines and Langerhans Cells, which marks an improvement in the inflammatory process.
The PALLAS Laser is the first solid state laser approved by the FDA and by ANMAT for the treatment of vitiligo, psoriasis, atopic dermatitis and leukoderma.
Advantages of PALLAS Laser over Excimer Laser
The 311 nm wavelength of the Laser Pallas is more effective than the 308 nm wavelength that Excimer Lasers deliver.
The Pallas Laser being solid state and not using gas makes it operationally safer for the operator and the patient.
The PALLAS Laser, having no consumables, allows for more effective and also cheaper treatments.
The PALLAS Laser allows us to carry out an effective and selective treatment of the affected area, for this reason it does not produce damage to nearby tissues as observed with AY B Phototherapeutic treatments.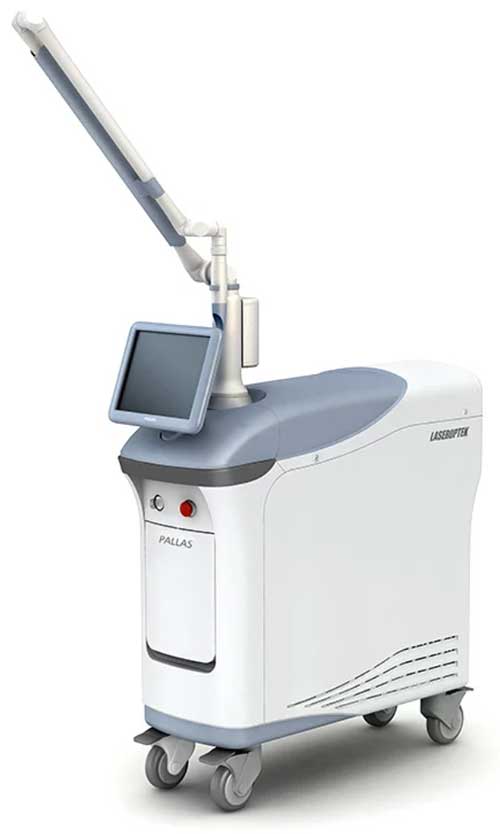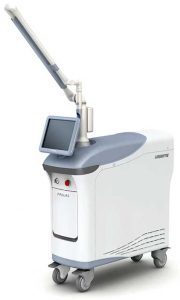 The Laser Pallas targets the psoriasis plaque, decreasing flaking and the inflammatory process.
The treatment of psoriasis with the Pallas Laser requires fewer sessions than traditional phototherapy, because a more powerful and localized ultraviolet B light is used.
Treatment with the Pallas Laser does not present the side effects observed with the Ultraviolet Light Phototherapy treatments A and B.
Treatment with the Pallas laser May show redness and blisters but they are localized and disappear quickly. The Pallas Laser treatment does not carry the aging effects of the skin and the risk of skin cancer that occurs with Ultraviolet Light Phototherapy A and B.
The treatments that we had available before the appearance of the Pallas 311 nm Solid State Titanium-Sapphire Laser are as follows.
Ultraviolet A and B phototherapy.
Laser Exempt 308 nm.
Topical creams.
Oral medication.
Ultraviolet phototherapy A and B
These treatments reduce inflammation and scale formation. The long-term side effects of these phototherapies are as follows:
Dry and wrinkled skin.
Spots and freckles.
High sensitivity to the sun.
Increased risk of skin cancer, such as melanoma
Ultraviolet radiation is divided into 3 types.
UVC 100 to 280 nm
UVB 280 at 315 nm
UVA 315 at 400 nm
Radiations ranging from 280 to 300 nm in the UVB range often cause a lot of redness, burns and increased skin cancer.
The most effective and least harmful wavelengths for the treatment of psoriasis and vitiligo they range from 295 to 313 nm. To achieve greater therapeutic effectiveness with fewer unwanted effects, the 311 nm solid state laser (PALLAS) was developed.
Cost of laser psoriasis treatment
The cost of the treatment is $3000 by session. It is carried out by our team of dermatologists in our medical center rocking horse
Doubts and queries
If you have any medical questions, send an email to [email protected]  . In this mail Only medical consultations will be received. Inquiries about shifts, payments and administrative issues are not attended.
By phone on Monday, Thursday and Friday from 8 a.m. to 3 p.m. at the following telephone numbers.
0054 11 4 901 6690

0054 11 4 904 3434

0054 11 4 904 0880
Bibliography
Phototherapy - Efficient treatment for psoriasis
Slaper, H., & Schothorst, AA (1986). Risk evaluation of UVB therapy for psoriasis: comparison of calculated risk for UVB therapy and observed risk in PUVA-treated patients. Photo-dermatology, 3(5), 271-283.
Parrish, JA, & Jaenicke, KF (1981). Action spectrum for phototherapy of psoriasis. Journal of Investigative Dermatology, 76(5), 359-362.