The best medical technology of the world and the most innovative procedures at your reach.
😊

 We continue serving ON-LINE by 

#

WhatsApp

because your health and well-being cannot be quarantined 

♥ ️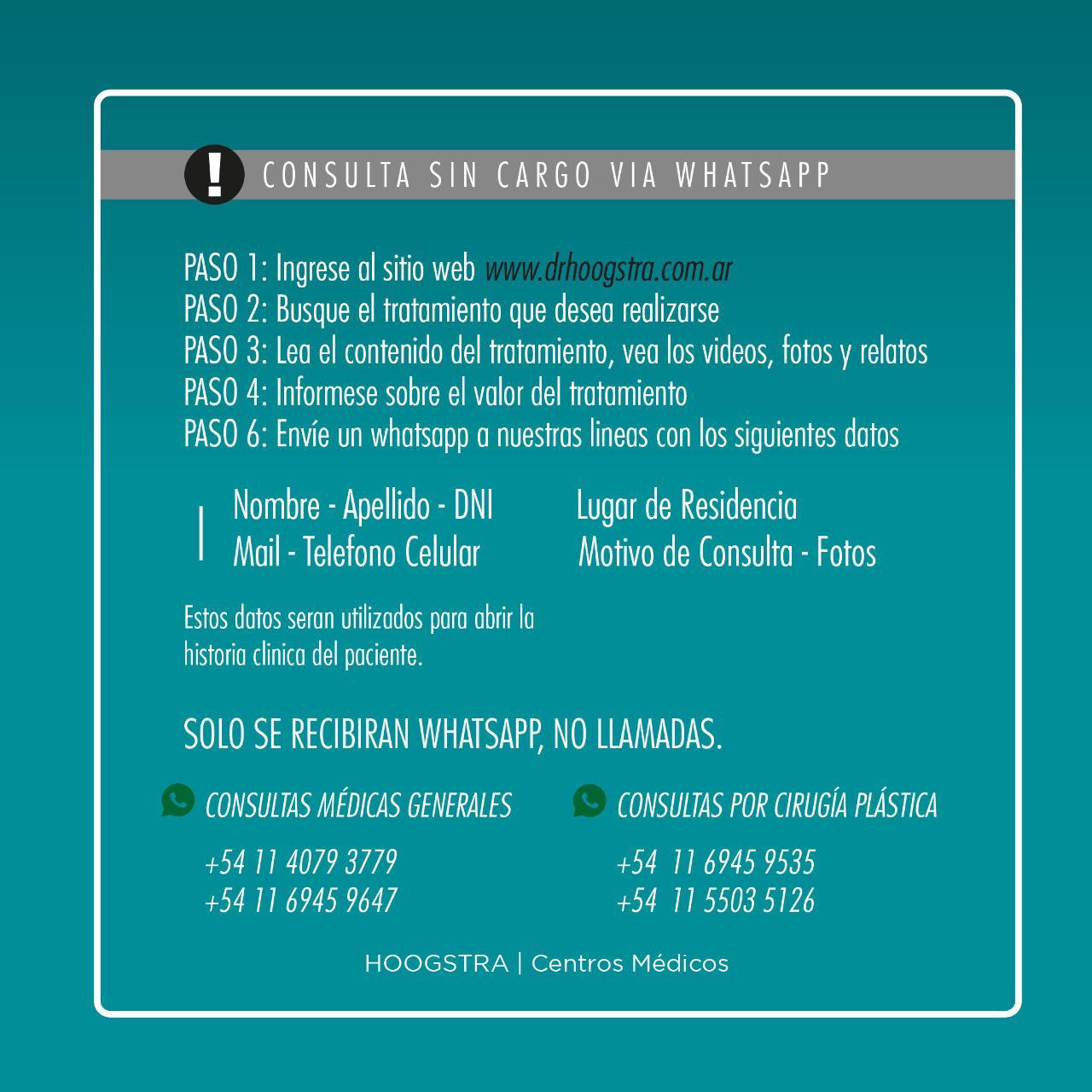 Treatments and cosmetic surgery
We offer a wide variety of aesthetic treatments personalized in our medical centers and we are a great team of professionals. In addition, we have state-of-the-art medical equipment to offer you best results. We accompany you in the decision process and clear all your doubts, do not hesitate to consult with any of our professionals.
Our patients they are our best presentation
Colleague Comments
"Dr Ricardo Hoogstra is one of the pre-eminent plastic surgeons in Argentina. He has traveled all over the world to further educate himself and enhance his surgical skills "

Dr. Joop M. Grevelink

MD, PhD Harvard Univ., Director - Boston Dermatology & Laser Center
"I had the experience of training with different lasers. The application of these technologies in our surgical fields is very wide and it broadens the panorama of treatments. This concept dominates it and transmits it perfectly without any reservation. "

Dr. Germán Vargas

Guatemala
"Ricardo is the finest example of a Plastic and Reconstructive Surgeon. He is well spoken, well read, and has excellent surgical skills. "

Dr. Daniel M. Calloway

Mayo Clinic - United States
"Dr. Hoogstra is a specialist in training doctors for the use of various types of lasers. Hoogstra provides all its knowledge openly and with great professionalism. It has allowed me to share different workshops for exchange with other professionals and thus improve daily practice. "

Dr. Nora Expósito

Argentina
"I appreciate the opportunity provided by Dr. Hoogstra in his clinic in Buenos Aires and for receiving training in the management of the Helios II team. I reiterate my appreciation for Dr. Hoogstra's knowledge and experience in this state-of-the-art laser technology. "

Dr. Horacio Botello

Panama
"I trained with Dr. Hoogstra in Laser blepharoplasty and minimally invasive lifting because he is the ONLY doctor in the world who does it without removing skin and leaving no scars. I am very grateful, he is an excellent professional and above all an excellent person. "

Dr. Jorge Marquez Iglesias

Colombia
"As a practicing Plastic Surgeon, Dr. Hoogstra understands the needs of his trainees and gives very useful information. In addition to giving the necessary details while teaching lasers, Dr. Hoogstra gives the special pearls needed to get the best results from his trainees. "

Dr. Steven Shapiro

U.S
"Dear Ricardo, thank you for your excellent contribution to international plastic surgery. I ask you to present more topics for the ISAPS congress in Miami 2018, which we believe will be the largest in history. "

Renato Saltz

ISAPS President
We await your consultation