Laser Helios improves the texture of the skin, has a slight tightening effect on it and eliminates blemishes without producing any adverse effect.
The patient can immediately continue his activity, noting improvement in the texture.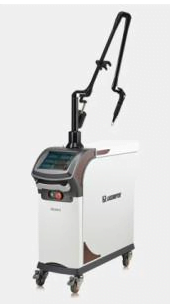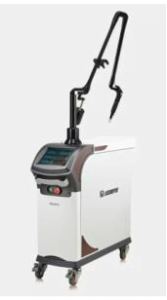 He Helios laser It has different pulse modalities:
Mode 1,064: It produces a general, slow and progressive effect on the skin.
It is a painless procedure, it is especially indicated for blemished skin and the patient immediately continues his normal life, with no signs of treatment.
Mode 532: It is applied on specific dark spots on the face, neckline, hands, etc. These spots get darker and after a week or 10 days they disappear.
More information about this procedure: Dark Spots on the Skin
Helios III also has a long pulse that produces a deep heating of the collagen, this generates after several sessions a Lifting effect.
Results before and after
Patient testimonial
We invite you to watch the videos on our YouTube channel with the account of patients who have received this treatment, entering here:  Helios Laser Peeling
Helios Laser Peeling Cost
Helios laser treatment for the entire face: the cost of each session is $15,000.
Helios Upper Lip Laser Treatment: the cost of each session is $12,500.
Helios Laser Treatment on Eyelids: the cost of each session is $12,500.
Panfacial Helios + 532 (for spots caused by scales) $20.000
This procedure is performed by dermatologists at the 3 centers.
You can take your turn online WITH DERMATOLOGISTS at any of our branches and attend directly to carry out a treatment.
Doubts and queries
If you have any medical questions, send an email to [email protected]  . In this mail Only medical consultations will be received. Inquiries about shifts, payments and administrative issues are not attended.
By phone on Monday, Thursday and Friday from 8 a.m. to 3 p.m. at the following telephone numbers.
0054 11 4 901 6690

0054 11 4 904 3434

0054 11 4 904 0880