¿Qué es la cantaridina?
La cantaridina es una sustancia derivada del escarabajo ampolla Cantharis vesicatoria. Los chinos han usado esta antigua medicina durante miles de años para una serie de enfermedades. En la década de 1950 se usaba en los EE. UU. Y otros países occidentalizados para tratar las verrugas. Sin embargo, en 1962 debido a las nuevas regulaciones de fabricación, perdió su Administración de Drogas y Alimentos de los Estados Unidos (aprobación de la FDA) y fue retirada del mercado. Esto vio una disminución en su uso hasta hace poco, donde se volvió a evaluar la cantaridina como un eliminador de verrugas virales que no causa cicatrices.
La cantaridina también se conoce como mosca española y su jugo de escarabajo se vende como afrodisíaco. La realidad es que es ineficaz para este propósito y, de hecho, si se ingiere es venenoso y posiblemente incluso mortal.
¿Cómo funciona la cantaridina y para qué se utiliza?
La cantaridina es un vesicante que hace que se forme una ampolla en la verruga o el crecimiento. Esta acción levanta la verruga de la piel y después de unos días cuando la ampolla se haya secado, la verruga se desprenderá. La acción de la cantaridina no va más allá del epidermal células, el basal cap permanece intacto, por lo tanto, no deja cicatrices. La cantaridina a veces es efectiva en el tratamiento de las verrugas virales comunes y con mucha frecuencia es efectiva para el molusco contagioso. Ambas son infecciones virales de la piel que resultan en pequeñas, benign Injuries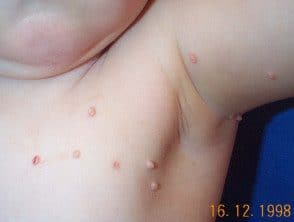 Cantharidin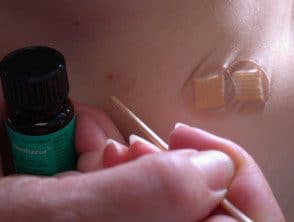 Cantharidin
Cómo usar la cantaridina
Por el toxic potencial de la cantaridina, solo debe usarse tópicamente y en un consultorio profesional, aplicado a las lesiones por un médico.
La cantaridina se debe usar de la siguiente manera.
Primero, el médico corta o afeita la verruga (esto no es necesario para el molusco contagioso).
La cantaridina (formulada con sustancias que crean una película aceitosa o coloidal) se aplica con precisión a la verruga o al molusco.
Se deja secar el líquido y luego se cubre y se sella con cinta no porosa durante 4 a 6 horas.
Luego se debe quitar la cinta y lavar el área con agua y jabón.
Se formará una ampolla dentro de las 24–48 horas.
En los próximos días, la ampolla se secará y el

injury

puede caerse Si es necesario, la lesión ampollada se puede cortar cerca de la base (local

anesthetic

puede ser requerido).
La curación normalmente se completa en 4 a 7 días.
Las verrugas resistentes o las nuevas lesiones de molusco pueden requerir un tratamiento repetido.
Precauciones al usar cantaridina
Cantharidin no debe usarse en lo siguiente:
Lunares, marcas de nacimiento o lesiones cutáneas no diagnosticadas.

Verrugas o moluscos en la boca mucous membranas (párpados, fosas nasales, boca) y deben usarse con cuidado alrededor de los genitales y el ano.
Cantharidin debe usarse con precaución en personas con diabetes, peripheral vascular enfermedad u otros problemas circulatorios, ya que tienen más probabilidades de desarrollar complicaciones.
¿Cuáles son los efectos secundarios de la cantaridina?
Por lo general, la aplicación de cantaridina en una lesión cutánea no es dolorosa, pero la ampolla resultante a veces puede ser incómoda. En un pequeño número de pacientes, puede aparecer un anillo de pequeñas verrugas satélite que rodean una verruga viral original después del tratamiento con cantaridina. Sin embargo, esta complicación también puede ocurrir con otras terapias de eliminación de verrugas.
Existe la posibilidad de complicaciones si se usa para tratar plant verrugas en las plantas de los pies. Informes aislados de inflammation de vasos linfáticos (lymphangitis) y la celulitis se han documentado.
New Zealand approved data sheets are the official source of information for these prescription drugs, including approved uses and risk information. See the New Zealand individual data sheet on the Medsafe website.