What is it
erythema

ab igne?

El eritema abdominal (EAI) es una reacción cutánea causada por chronic exposición a radiación infrarroja en forma de calor. Alguna vez fue una condición común que se observó en los ancianos que estaban parados o sentados cerca para abrir fuegos o calentadores eléctricos. Aunque la introducción de la calefacción central ha reducido la EAI de este tipo, todavía se encuentra en personas expuestas al calor de otras fuentes.
¿Cuáles son los signos y síntomas del eritema abdominal y quién está en riesgo?
La exposición limitada al calor, insuficiente para causar una quemadura directa, provoca un rojo leve y transitorio eruption parecido a encaje o una red de pesca. La exposición prolongada y repetida provoca un enrojecimiento y coloración marcados de la piel (hiper o hipo-pigmentation) La piel y el tejido subyacente pueden comenzar a adelgazarse (atrophy) y rara vez se pueden desarrollar llagas. Algunos pacientes pueden quejarse de picazón leve y una sensación de ardor.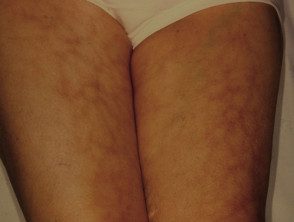 Erythema ab igne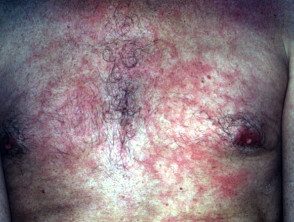 Erythema ab igne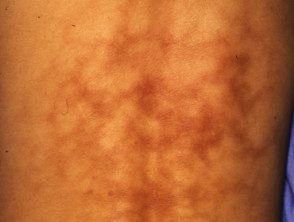 Erythema ab igne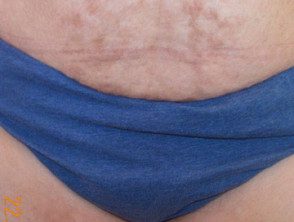 Erythema ab igne
Located Las lesiones que se ven hoy reflejan las diferentes fuentes de calor a las que las personas pueden estar expuestas. Ejemplos incluyen:
Aplicación repetida de botellas de agua caliente o almohadillas térmicas para tratar el dolor crónico, p. dolor de espalda crónico
Exposición repetida a calentadores de automóviles o muebles con calentadores incorporados
Riesgo laboral para plateros y joyeros (cara expuesta al calor), panaderos y cocineros (armas)
¿Qué tratamientos hay disponibles para el eritema abdominal?
Se debe evitar la fuente de exposición crónica al calor. Si el área solo se ve levemente afectada con un ligero enrojecimiento, la afección se resolverá por sí sola durante varios meses. Si la condición es severa y la piel pigmented and atrophic, la resolución es poco probable. En este caso, existe la posibilidad de que scaly se pueden formar carcinomas de células. Si hay una llaga persistente que no cicatriza o un bulto creciente dentro de la erupción, una piel biopsy debe realizarse para descartar la posibilidad de piel Cancer. La piel anormalmente pigmentada puede persistir durante años. Tratamiento con current tretinoína o To be Puede mejorar la apariencia.