What is it
granuloma

faciale?

El granuloma facial es un trastorno cutáneo no canceroso raro que se caracteriza por una o varias papules, plates or nodules, con mayor frecuencia en la cara.
¿Quién contrae granuloma facial?
El granuloma facial afecta con mayor frecuencia a hombres blancos sanos de mediana edad, aunque se ha encontrado en hombres y mujeres de todas las razas y edades.
¿Cuáles son los signos y síntomas del granuloma facial?
Los pacientes con mayor frecuencia se presentan a su médico después de notar una mancha o injury en su cara que luego se agranda o multiplica en número durante varias semanas o meses. Estas lesiones suelen ser:
De color variado: color de piel, marrón rojizo, azul o morado
Su tamaño varía de unos pocos milímetros a varios centímetros.
Elevado y suave
Caracterizado por prominente

follicles

(poros)
Definido con un borde
En la cara, aunque se han encontrado lesiones similares en otras partes del cuerpo, como el cuero cabelludo, el tronco y las extremidades, cuando se conocen como granuloma facial extrafacial
El granuloma facial generalmente no presenta síntomas. Algunos pacientes pueden quejarse de lesiones sensibles, picazón o picazón.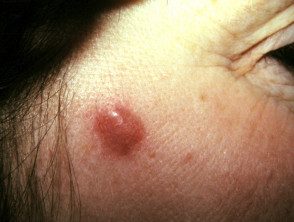 Facial granuloma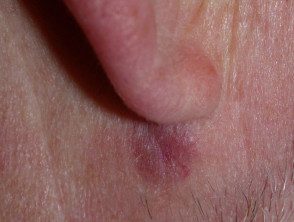 Facial granuloma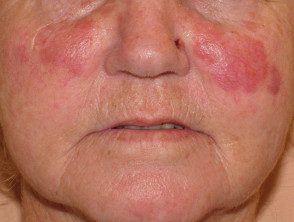 Facial granuloma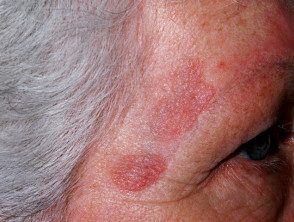 Facial granuloma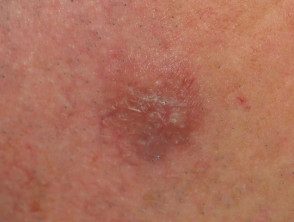 Facial granuloma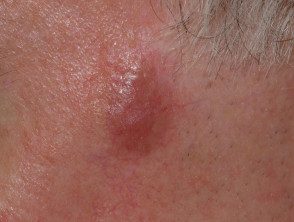 Facial granuloma
¿Qué causa el granuloma facial?
Se desconoce por qué ocurre el granuloma facial, pero se ha implicado la exposición al sol:
Las lesiones aparecen con mayor frecuencia en áreas expuestas al sol.
Las lesiones se oscurecen cuando se exponen al sol.
How is it diagnosed?
El diagnóstico es confirmado por la piel. biopsy y a menudo es necesario descartar otras enfermedades de la piel que tienen una apariencia similar. El granuloma facial se caracteriza por inflammatory cells in the dermis even eosinophils (allergy células) y vasculitis (enconado blood vessels)
Differential diagnosis
Las afecciones de la piel que pueden parecer similares al granuloma facial incluyen:
erythema

elevatum diutinum
sarcoidosis

cutaneous

lupus erythematosus

polymorphous

light

eruption

Jessner

lymphocytic

infiltration

linfocitoma

skin

micosis fungoide

reacción de picadura de insecto

erupción de drogas fija.
Tratamiento del granuloma facial
El granuloma facial es un chronic condición con exacerbations and referrals. La resolución espontánea rara vez ocurre. La enfermedad parece no tener ninguna relación con la enfermedad interna y el tratamiento es principalmente para mejorar la apariencia. Se han utilizado varias terapias médicas y quirúrgicas, pero ninguna ha sido consistentemente exitosa. El granuloma facial también tiene tendencia a reaparecer después del tratamiento.
Las terapias médicas utilizadas con resultados variables incluyen:
Current

steroids
Inyecciones de corticosteroides
Dapsone

Tabletas antipalúdicas (hidroxicloroquina)

Dapsone
Psoraleno tópico

UV

-A (PUVA)

Radiotherapy
La terapia quirúrgica también se puede utilizar. Los resultados son variables y pueden dejar cicatrices.
Surgical

excision

Dermabrasion
Carbon dioxide

To be

Electrosurgery

Cryotherapy

Láser de colorante pulsado de 585 nm