¿Qué es guselkumab?
Guselkumab es un tratamiento biológico indicado para la psoriasis moderada a severa.
La Administración de Drogas y Alimentos de los Estados Unidos (FDA) aprobó guselkumab (Tremfya ™, Janssen Biotech, PA, EE. UU.) Para el tratamiento de adultos que viven de moderados a severos license plate psoriasis que son candidatos para systemic terapia o fototerapia. Guselkumab es la primera y única terapia biológica aprobada que bloquea selectivamente solo interleukin 23 (IL-23), un cytokine It plays a key role in plaque psoriasis.
Las solicitudes que buscan la aprobación de guselkumab en la Unión Europea, Japón y otros países están actualmente bajo revisión.
Psoriasis severa en placa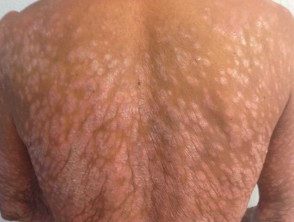 Psoriasis severa que afecta la espalda.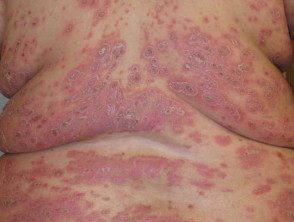 Severe psoriasis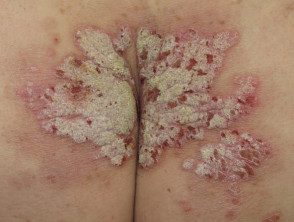 Glúteos con psoriasis severa
¿Para qué se usa guselkumab?
Guselkumab se usa para el tratamiento de pacientes adultos con psoriasis en placas de moderada a grave que son candidatos para terapia sistémica o fototerapia (

Ultraviolet radiation

tratamiento).
No se sabe si guselkumab es seguro y efectivo en niños menores de 18 años.
¿Cómo funciona guselkumab?
Guselkumab es un humano

monoclonal

immunoglobulin

G1 lambda (IgG1λ)

antibody

que se une selectivamente a la subunidad p19 de IL-23 (una proteína involucrada en el

inflammatory

respuesta) e inhibe su interacción con la IL-23

receiver

.
Si bien IL-23 promueve respuestas inflamatorias e inmunitarias normales, se encuentra que las subunidades p19 y p40 de IL-23 se sobreexpresan en la condición de psoriasis y otras

autoimmune

enfermedades inflamatorias de la piel.
Guselkumab se une selectivamente a la subunidad p19 de IL-23 en

dendritic cells

and

keratinocytes

y bloquea su interacción con el receptor de IL-23, lo que impide aún más la liberación de otros proinflamatorios

cytokines

and

chemokines

a través de la estimulación de

immune cells

, como las células T helper 17 (Th17).
El Guselkumab bloquea así la señalización anormalmente elevada de las cascadas inflamatorias (el proceso de reacción en cadena de activación de la respuesta inmune) que promueven

epidermal

abnormalities, including

keratinocytes

hyperproliferation

(cicatrización de heridas no suprimida) y formación de placa psoriásica.
¿Cómo se administra guselkumab?
Guselkumab es administrado por

subcutaneous

injection.
La dosis recomendada es de 100 mg en la semana 0, semana 4 y, posteriormente, cada 8 semanas.
Guselkumab no debe inyectarse en áreas donde la piel está sensible, magullada, roja, dura, gruesa,

scaly

, o afectado por la psoriasis.
Está destinado para su uso bajo la guía y supervisión de un médico.
Guselkumab puede ser administrado por un profesional de la salud o un paciente puede autoinyectarse después del entrenamiento adecuado en la técnica de inyección subcutánea.
Guselkumab puede aumentar el riesgo de

infection

.
Una dosis omitida debe inyectarse tan pronto como se recuerde, y tomar la siguiente dosis a la hora programada adecuada.
Evaluación previa al tratamiento para tuberculosis e inmunización.
El tratamiento con guselkumab no debe iniciarse en pacientes con cualquier infección activa clínicamente importante hasta que la infección se resuelva o se trate adecuadamente.
Pacientes con antecedentes de

latent

la tuberculosis debe tratarse adecuadamente antes de la administración de guselkumab, ya que puede reactivar la infección tuberculosa latente.
Los pacientes no deben ser inmunizados con vacunas vivas durante el tratamiento con guselkumab.
Uso en poblaciones específicas.
Pregnant women
No hay datos disponibles para el uso de guselkumab en mujeres embarazadas, lo que indica que existe un riesgo asociado con el medicamento relacionado con defectos congénitos importantes y aborto espontáneo.
No se observaron efectos adversos en el desarrollo en la descendencia de 0 a 6 meses de edad en

cynomolgus monkeys

tratado con guselkumab hasta 30 veces la dosis máxima recomendada para humanos.
Consulte la página de DermNet NZ sobre la seguridad de los medicamentos tomados durante el embarazo.
Lactancia materna e infantil
No hay información sobre la presencia de guselkumab en la leche humana o sus efectos en el lactante.
El potencial riesgo-beneficio debe considerarse al recetar guselkumab a la madre.
Vea la página de DermNet NZ sobre lactancia y la piel.
Children
La seguridad y eficacia de guselkumab en pediatric patients <18 años de edad no han sido evaluados.
Old people
Los estudios clínicos con guselkumab no incluyeron un número suficiente de pacientes de 65 años para determinar si responden de manera diferente a los sujetos más jóvenes.
Patients with
hepatic

or

renal

disability

No se han realizado ensayos para evaluar el efecto de la insuficiencia hepática o renal en el pharmacokinetics de guselkumab.
Efectos adversos de guselkumab
The most common Adverse reactions (≥ 1% de los pacientes) informados incluyen:
Upper respiratory infections
Headache
Injection site reactions

Arthralgia

Diarrhea

Gastroenteritis

Infección por tiña

Infección por herpes simple.
Interacciones farmacológicas con guselkumab
No hay datos disponibles sobre la capacidad de las vacunas vivas o inactivas para provocar una respuesta inmune en pacientes que reciben tratamiento con guselkumab.
Las vacunas vivas no deben usarse

concomitantly

durante el tratamiento con guselkumab.
Población

pharmacokinetics

los análisis han indicado que el

concomitant

El uso de ibuprofeno, aspirina o paracetamol no afecta el aclaramiento de guselkumab.
El efecto de las drogas metabolizadas a través del citocromo hepático P450

enzymes

(p. ej., warfarina y ciclosporina) pueden alterarse durante la administración concomitante con guselkumab. Se debe considerar la modificación de la dosis de estos medicamentos.
Los resultados de un estudio exploratorio de interacción fármaco-fármaco en pacientes con psoriasis moderada a grave han sugerido un bajo potencial de interacciones farmacológicas clínicamente relevantes para fármacos metabolizados por CYP3A4 (midazolam), CYP2C9 (warfarina), CYP2C19 (omeprazol) y CYP1A2 ( cafeína), pero no se puede descartar el potencial de interacción de los fármacos metabolizados por CYP2D6 (metoprolol).
Contraindications

a guselkumab

Guselkumab no debe usarse en pacientes que:
Tiene una infección que no desaparece o que vuelve a aparecer.
Tiene o ha estado en contacto cercano con alguien con TB
Recently received or scheduled to receive a vaccine
plan to get pregnant
Breastfeeding or plan to breastfeed.
Guselkumab es prometedor para la psoriasis en placas en los estudios de fase III.
Guselkumab ha mostrado un perfil de seguridad aceptable y bueno

effectiveness

en el tratamiento de la psoriasis en placas de moderada a grave.
Es la primera terapia biológica en su clase que bloquea selectivamente solo IL-23, una citocina que juega un papel clave en la psoriasis en placas.
Guselkumab ha demostrado

higher

resulta en el aclaramiento de la piel en comparación con adalimumab en análisis de cabeza a cabeza.
Los hallazgos de los ensayos clínicos también han demostrado la efectividad de guselkumab en pacientes que tuvieron una respuesta inadecuada al tratamiento con ustekinumab.
Un estudio de fase III que evalúa guselkumab en el tratamiento del psoriático activo

arthritis

está en curso, y un programa de Fase III que evalúa la eficacia de guselkumab en comparación con secukinumab en el tratamiento de la psoriasis en placas de moderada a grave está en marcha.
Aunque se necesitan más estudios para evaluar la seguridad y la eficacia a largo plazo, según los resultados hasta la fecha, el guselkumab parece ser prometedor.

therapeutic

opción para la psoriasis en placas de moderada a severa.
New Zealand approved data sheets are the official source of information for these prescription drugs, including approved uses and risk information. See the New Zealand individual data sheet on the Medsafe website.