¿Qué es candidal?
intertrigo

?

El intertrigo candidato se refiere al pliegue superficial de la piel. infection causado por la levadura, candida.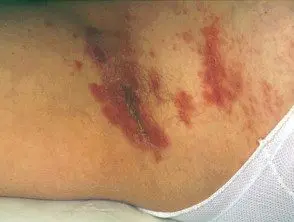 Intertrigo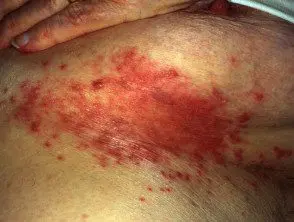 Intertrigo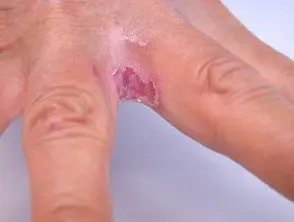 Candida infection
Ver más imágenes de candida intertrigo.
¿Qué causa el intertrigo candidal?
El intertrigo candidato se desencadena por una combinación de los siguientes factores:
El ambiente cálido y húmedo de los pliegues de la piel, que es propicio para el crecimiento de especies de candida, particularmente Candida albicans[1]
Aumento de la fricción de la piel [2]
Inmunocompromiso [3].
¿Quién contrae intertrigo candidal?
Los factores que aumentan el riesgo de un individuo de desarrollar intertrigo candidal incluyen:
Occlusive

ropa, guantes y calzado
Obesity
Sudoración excesiva (

hyperhidrosis

)
Incontinencia que causa

irritating

Contact

dermatitis

(dermatitis asociada a incontinencia)
Mellitus diabetes

Condiciones de inmunodeficiencia, como la infección por el virus de la inmunodeficiencia humana (HIV) or immunosuppression por medicamentos (chemotherapy, systemic corticosteroides) [2-5].
¿Cuáles son las características clínicas del intertrigo candidal?
El intertrigo candidato se presenta clásicamente como erythematous y macerado plates with peripheral climbing. A menudo se asocian satélites superficiales papules or pustules [2,5,6].
Las áreas afectadas pueden incluir:
La piel se pliega debajo de los senos o debajo del abdomen
Axilas e ingles
Espacios web entre los dedos de las manos o pies (erosio interdigital blastomycetica) [2,5,6].
¿Cómo se diagnostica el intertrigo candidal?
El diagnóstico de intertrigo candidal requiere el reconocimiento de características clínicas consistentes. En casos de incertidumbre, se puede buscar confirmación a través de hongos microscopy and culture de hisopos y raspados de piel [7]. Piel biopsy Por lo general, no es necesario.
Which is the
differential diagnosis

para candidal intertrigo?

Deben considerarse otras formas de intertrigo, que incluyen:
Jock itch (groin) and athlete's foot (between the toes)

Contact dermatitis

Atopic

dermatitis

Seborrheic

dermatitis

Flexural

psoriasis
Impetigo
Extramammary Paget's disease
Herpes Simplex

Enfermedad de Hailey Hailey.
¿Cómo se trata el intertrigo candidal?
Los factores predisponentes deben abordarse principalmente, como la pérdida de peso, la sangre

glucose

control

y evitar ropa ajustada [8,9].
Se debe recomendar a los pacientes que mantengan la piel fresca y sin humedad. Esto puede ser ayudado por el uso regular de un agente de secado como el talco

dust

, especialmente si la infección es

recurrent

[7,10].

Current

agentes antifúngicos como el clotrimazol

cream

se recomiendan como tratamientos farmacológicos de primera línea [10–12].
Grave,

generalized

y / o los casos refractarios pueden requerir tratamientos antimicóticos orales como fluconazol o itraconazol[10–12].