¿Qué es la psoriasis facial?
La psoriasis facial es un chronic afección de la piel en la que hay uno o más parches persistentes, engrosados, rojos y secos en la cara.
La psoriasis es una enfermedad crónica crónica. inflammatory enfermedad de la piel que puede afectar cualquier sitio de la piel. La afectación facial ocurre en algún momento en aproximadamente la mitad de los afectados por la psoriasis. Aunque generalmente es leve, la psoriasis facial en ocasiones es muy extensa y afecta la línea del cabello, la frente, el cuello, las orejas y la piel del rostro.
Es extremadamente raro que la psoriasis ocurra únicamente en la cara. La mayoría de los pacientes también tienen psoriasis del cuero cabelludo y también pueden tener psoriasis moderada a severa en otros sitios.
Los pacientes con psoriasis facial a menudo sufren de psychosocial problemas debido a la presencia de antiestético rojo, scaly plates en zonas muy visibles.
La participación facial se presenta como un therapeutic desafío porque la piel facial es delgada, sensible y más complicada de tratar.
¿Cuáles son las características clínicas de la psoriasis facial?
La psoriasis facial tiene varias presentaciones clínicas. Hay tres subtipos principales:
La psoriasis capilar
Sebo-psoriasis
La verdadera psoriasis facial.
La psoriasis capilar
Una extensión de la psoriasis del cuero cabelludo más allá de la línea del cabello hasta la piel del rostro.
Rojo brillante, placas engrosadas con blanco variable

scale
Psoriasis que afecta la línea del cabello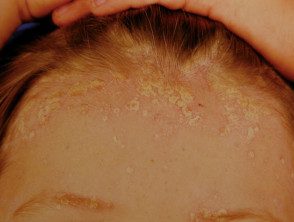 Facial psoriasis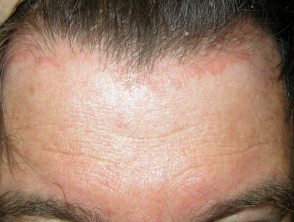 Facial psoriasis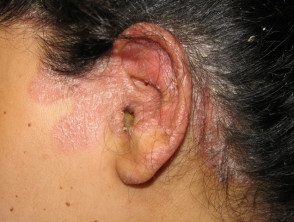 Facial psoriasis
Sebo-psoriasis
Compromiso irregular de la línea del cabello
A menudo afecta los párpados, las cejas, los pliegues nasolabiales y el área de la barba.
Rosa salmón, placas delgadas con escamas parecidas al salvado
Usualmente asociado con

diffuse

o psoriasis irregular del cuero cabelludo
La psoriasis puede o no estar presente en otros sitios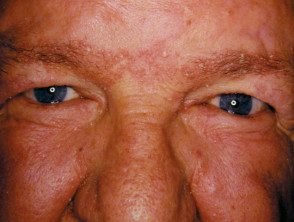 Facial psoriasis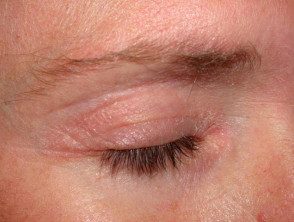 Eyelid psoriasis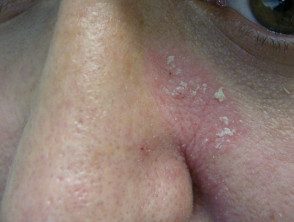 Facial psoriasis
Verdadera psoriasis facial
Abruptly

demarcated

, placas rojas y escamosas
Puede afectar cualquier parte de la cara.
Las placas tienden a ser

symmetrical

Asociado con psoriasis en otros sitios, incluyendo oídos, genitales, cuero cabelludo, codos, rodillas y tronco.
Puede ser parte de crónica

license plate

psoriasis, psoriasis guttata o psoriasis eritrodérmica
Verdadera psoriasis facial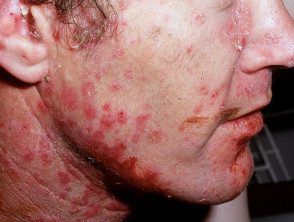 Facial psoriasis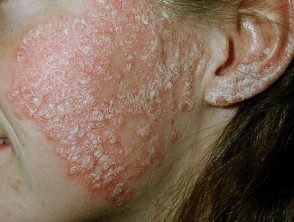 Facial psoriasis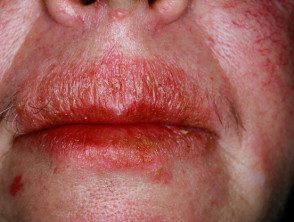 Facial psoriasis
Ver más imágenes de psoriasis facial …
Síntomas de psoriasis facial.
Picazón leve a intensa
Dolor y sensibilidad en la piel, que generalmente son leves.
¿Qué causa la psoriasis facial?
Las causas de la psoriasis facial son las mismas que para la psoriasis en general. La psoriasis se asocia con una activación inapropiada del sistema inmune que resulta en inflammation and increased proliferation de células de la piel. Hay un genetic predisposition, pero las influencias ambientales son importantes, incluido el estrés, infection, lesiones y ciertos medicamentos.
La psoriasis facial también puede verse agravada por:
Ultraviolet radiation

– algunos pacientes tienen

photosensitivity

donde la psoriasis se agrava por la exposición al sol
Flora de la piel, particularmente la levadura Malassezia

De fumar.
¿Cuál es el tratamiento para la psoriasis facial?
No existe cura para la psoriasis facial, pero es satisfactoria. control de la enfermedad es posible para la mayoría de los pacientes que usan current terapia. El cuidado general de la piel puede incluir:
Limpiadores suaves sin jabón
Moisturizers
Protectores solares, si es necesario.
Cremas de corticosteroides
Los esteroides tópicos de fuerza leve o moderada reducen la inflamación y alivian la picazón. Los efectos secundarios de los corticosteroides restringen la potencia y la duración del uso en la cara. Éstas incluyen:
Periorificial

dermatitis

(manchado como el acné

eruption

alrededor de la boca, nariz y párpados)
Fácil aparición de moretones y desgarros en la piel.
Piel fina y transparente, especialmente si se tratan los párpados.

Telangiectasia

(engrandecido

blood vessels

)
Raramente, aumentado

hair

increase (

hypertrichosis

)
Riesgo de

glaucoma

and

waterfalls

por el uso a largo plazo de potentes cremas con esteroides alrededor de los párpados.
La hidrocortisona es generalmente segura. Los esteroides tópicos más potentes se usan mejor en la cara durante solo unos días cada mes.
Topical calcineurin inhibitors.
Los inhibidores tópicos de la calcineurina pimecrolimus cream y tacrolimus ointment puede prescribirse fuera de etiqueta para la psoriasis facial y puede ser muy eficaz. Son particularmente útiles en la piel de los párpados. En Nueva Zelanda, estos preparativos no están subsidiados actualmente por PHARMAC (febrero de 2019).
Otras preparaciones tópicas
El ácido salicílico es un agente desincrustante que se encuentra en muchos

on the counter

creams
La vitamina D

analogs

, calcipotriol / calcipotrieno y calcitriol tienden a irritar la piel del rostro. Crema o

gel

Se pueden tolerar formulaciones, especialmente en combinación con esteroides tópicos.
Las cremas de alquitrán de hulla pueden causar manchas e irritación.
Phototherapy
La exposición al sol o la fototerapia prescrita a menudo son útiles para la psoriasis facial.
No es prudente si hay fotosensibilidad o daño solar significativo, como la energía solar /actinic keratosis or skin Cancer.
Systemic

treatment

La psoriasis facial severa a veces justifica el tratamiento con tabletas o inyecciones como metotrexato, ciclosporina, acitretina o agentes biológicos. Los pacientes deben estar bajo el cuidado de un experimentado dermatologist y debe ser cuidadosamente monitoreado.
Which is the
forecast

?

La psoriasis facial tiende a persistir, aunque su gravedad puede variar según la estación, el estrés y otros factores. Puede ser un marcador de enfermedad más grave con inicio temprano, larga duración y placas más extensas.