¿Qué es una estasis?
ulcer

?

Una úlcera de estasis es la causa más común de chronic Pérdida total de la piel en la parte inferior de la pierna. El nombre implica que las venas son incompetentes para que venous la sangre no fluye correctamente desde la pierna hacia el corazón. Una úlcera de estasis también se llama úlcera venosa de la pierna, úlcera gravitacional y úlcera varicosa (aunque esta última es un nombre inapropiado cuando las venas varicosas no están presentes).
¿Quién contrae estasis?
ulcers

?

Las úlceras por estasis afectan al 1% de la población, por lo que no son infrecuentes. Se han relacionado una variedad de problemas médicos y factores de estilo de vida con su desarrollo. Éstas incluyen:
Edad creciente
Anterior venosa profunda

thrombosis

(TVP) (un coágulo de sangre en las venas profundas)
Obesity
Fractura de miembros inferiores, cirugía o lesión.

Immobility

Hypertension
Pararse erguido durante largos períodos.
Múltiples embarazos previos

Venas varicosas.
Las úlceras de estasis representan al menos el 40-50% de las úlceras crónicas de las extremidades inferiores y contribuyen a un 20% adicional de las mixtas arterial y úlceras venosas.
¿Qué causa las úlceras por estasis?
Las úlceras por estasis son causadas por:
Insuficiencia venosa (pobre retorno de la sangre venosa desde las periferias a la circulación central)
Venous

hypertension

(altas presiones dentro de las venas)

Edema

(acumulación de líquido en las extremidades inferiores).
Los factores que conducen a la insuficiencia venosa incluyen:
Obstrucción venosa por TVP u obesidad
La incompetencia de las válvulas dentro del

blood vessels

Bomba venosa deteriorada, que requiere

muscle contractions

.
Cuando la sangre no puede regresar eficientemente al corazón:
El líquido se escapa de los vasos sanguíneos congestionados hacia los tejidos circundantes.
Las paredes de los vasos se vuelven

fibrotic

(engrosado)
Hay una entrega reducida de oxígeno y nutrientes a los tejidos.
Hay una eliminación alterada de los productos de desecho metabólico.
Los tejidos se inflaman.
Wound healing is impaired.
El resultado es un eventual deterioro de la piel, especialmente después de un acute lesión (que podría ser bastante menor).
¿Cuáles son las características clínicas de las úlceras por estasis?
Las características de las úlceras por estasis incluyen:
Estar ubicado en la parte inferior de las piernas, comúnmente en la región interna del tobillo o "polaina"
Causando un dolor mínimo
Una tendencia a ser poco profunda, con muchos

exudate

.
Úlceras en la pierna por estasis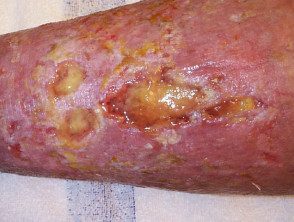 Úlcera venosa de la pierna
Úlcera venosa de la pierna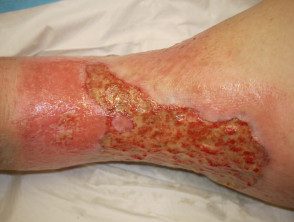 Úlcera venosa de la pierna
Las características que confirman la enfermedad venosa incluyen:
Hinchazón de tobillos
Varicose veins
Decoloración de la piel rojo-marrón debido a

hemosmosin

statement

resultante de la descomposición de los glóbulos rojos

Dermatitis

, Ya sea ampollado y húmedo, o seco y

scaly

, picazón en la piel

Lipodermatosclerosis (engrosamiento, tejidos leñosos)

Uñas gruesas y de crecimiento lento.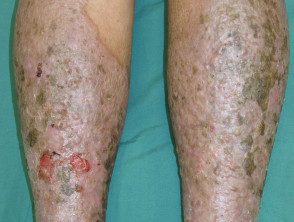 Venous insufficiency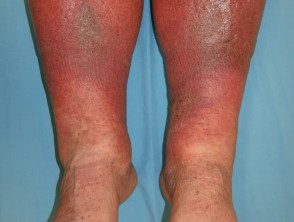 Venous insufficiency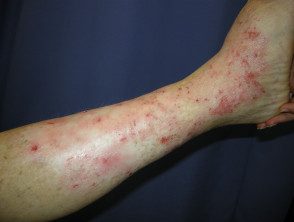 Venous insufficiency
¿Cuáles son las complicaciones de las úlceras por estasis?
La principal complicación de las úlceras por estasis es un infection. La infección de la herida puede afectar el proceso de curación. The bacteria coloniza casi todas las úlceras de las piernas, pero systemic No se requieren antibióticos a menos que haya signos clínicos de infección. Los signos de que una úlcera de estasis puede requerir tratamiento con antibióticos incluyen:
Enrojecimiento e hinchazón de la piel que rodea la herida.
Increasing heat
Increasing pain
Increase in the size of the wound.
Growing

purulent

download

de la herida

Fever

.
Current No se recomiendan los antibióticos porque reducen la velocidad de curación de la herida, a pesar de su bactericide properties.
Celulitis e insuficiencia venosa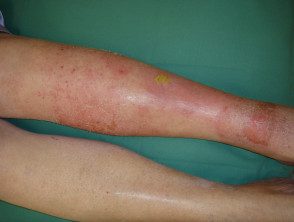 Úlcera venosa infectada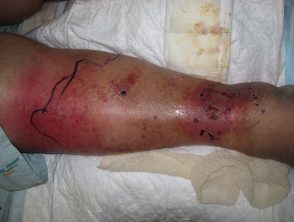 Celulitis alrededor de la úlcera venosa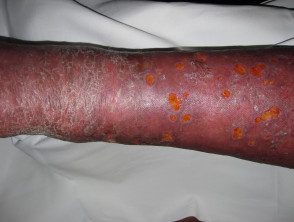 Celulitis e insuficiencia venosa
¿Cómo se diagnostican las úlceras por estasis?
Stasis ulceration Por lo general, es un diagnóstico clínico, basado en los antecedentes del paciente y los hallazgos del examen, e incluye la presencia de factores de riesgo de estasis venosa, es decir, congestión y disminución de la circulación venosa, y las características de la herida y los tejidos circundantes.
Dúplex

ultrasonography

se usa para confirmar la obstrucción venosa o la incompetencia valvular antes de la vena safena

ablation

surgery

Concomitant

La enfermedad arterial se identifica mediante el índice tobillo-brazo (ITB)
Otras investigaciones para evaluar la insuficiencia venosa y proporcionar información hemodinámica pueden incluir:
Ecografía intravenosa
Venografía / flebografía ascendente o descendente (contraste directo, resonancia magnética)
Pletismografía venosa de aire

Fotopletismografía

Linfogammagrafía
Termografía de cristal líquido
Mediciones de presión venosa ambulatoria
Pruebas de presión diferencial brazo-pie
Pruebas de función venosa.

Hematological

estudios de la

coagulation

system.
¿Cuál es el tratamiento para las úlceras por estasis?
El tratamiento para las úlceras por estasis tiene como objetivo abordar la causa subyacente, proporcionar alivio sintomático y promover la cicatrización de heridas.
General measures
Apunte a la reducción de peso si el individuo tiene sobrepeso.
Aconseje al individuo que aumente el ejercicio para ayudar a la circulación.
Reduzca la hinchazón de las piernas haciendo que el individuo eleve la pierna por encima del nivel del corazón con la mayor frecuencia posible, un mínimo de 30 minutos, tres veces al día.
Compression
La compresión es la base del tratamiento para las úlceras por estasis.
La compresión (p. Ej., Vendaje elástico de cuatro capas) ayuda a sanar las úlceras por estasis, limita la hinchazón de las piernas y proporciona alivio sintomático.
Las medias de compresión son menos efectivas en el tratamiento de las úlceras establecidas, pero son útiles para la prevención de heridas.
Cuidado local de heridas
El cuidado adecuado de la herida implica mantener la herida limpia y húmeda con cambios regulares de apósito.
Desbridamiento

Se utiliza para eliminar el tejido muerto a lo largo de los bordes de la herida y el exceso

move

del lecho de la herida.
Tratar venosa

eczema

con esteroides tópicos y regulares

emollients

.
Tratamiento médico y quirúrgico
Los medicamentos orales que afectan el flujo sanguíneo, particularmente la aspirina, proporcionan algún beneficio para promover la curación de las úlceras por estasis.
Las intervenciones quirúrgicas pueden ayudar a curar las úlceras de estasis en las piernas y prevenir su reappearance.
La ablación venosa superficial reduce el flujo de retorno de la sangre desde las venas penetrantes hasta los vasos superficiales de las piernas; ver terapias de las venas de las piernas.
El injerto de piel puede ser necesario para las úlceras de estasis grandes, estables, no infectadas, que no han mostrado mejoría con otras medidas.
En el caso de una úlcera de estasis resistente, se pueden probar otras terapias, que incluyen:
Hyperbaric oxygen therapy
Medicamentos que causan venas

constriction

, incluidos los flavonoides
Medicamentos que afectan el flujo sanguíneo, como la pentoxifilina.

Therapeutic

ultrasound

y terapia electromagnética.
¿Cuál es el resultado de las úlceras por estasis?
Las úlceras de estasis en las piernas son crónicas y pueden persistir durante algunos meses o muchos años. Una vez que se han curado, existe una alta probabilidad de que la ulceración por estasis vuelva a ocurrir, a menos que la insuficiencia venosa subyacente se trate de manera efectiva.