¿Qué es cemiplimab?
Cemiplimab (también llamado cemiplimab-rwlc; nombre comercial Libtayo®) es un medicamento recetado que se usa para tratar a personas con cutaneous scaly cell carcinoma (SCC)
En abril de 2018, la Agencia Europea de Medicamentos (EMA) aceptó revisar la solicitud de autorización de comercialización de cemiplimab para el tratamiento de pacientes con metastatic SCC cutáneo o SCC cutáneo localmente avanzado que no son candidatos para cirugía.
En septiembre de 2018, la Administración de Drogas y Alimentos de los Estados Unidos (FDA) aprobó el cemiplimab como una terapia innovadora para el tratamiento de pacientes con SCC cutáneo metastásico o SCC localmente avanzado que no son candidatos para cirugía curativa o radiación curativa. Regeneron y Sanofi-Aventis (Nueva Jersey, EE. UU.) Comercializarán Libtayo® conjuntamente en los Estados Unidos.
Carcinoma de células escamosas cutáneas localmente avanzado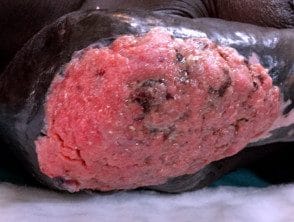 Carcinoma de células escamosas avanzado que surge en la cicatriz de la quemadura térmica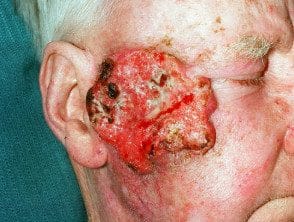 Carcinoma de células escamosas avanzado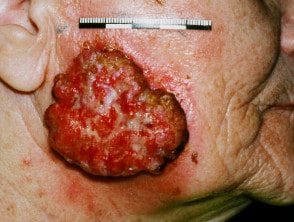 Carcinoma de células escamosas avanzado
El cemiplimab es el primer y único tratamiento específicamente aprobado y disponible para SCC cutáneo avanzado en los EE. UU. Este medicamento fue evaluado por la FDA bajo revisión prioritaria, que está reservada para medicamentos que representan mejoras significativas en la seguridad o effectiveness en el tratamiento de afecciones graves.
Se anticipa que el proceso de revisión de EMA se completará en la primera mitad de 2019. Actualmente no hay tratamientos aprobados por EMA para SCC cutáneo avanzado.
Cemiplimab está bajo investigación en otras neoplasias malignas. Está en fase III de desarrollo para cervical Cancer and basal carcinoma de células y en el desarrollo de la Fase II para otros tipos de cáncer, incluidos el glioblastoma multiforme, el cáncer de ovario y de próstata, y acute lymphocytic leukemia.
Las solicitudes de reglamentación en países adicionales se están considerando actualmente para su presentación. Cemiplimab no está disponible actualmente en Nueva Zelanda.
¿Cómo funciona el cemiplimab?
El cemiplimab es un humanizado altamente selectivo monoclonal immunoglobulin G4 (IgG4) antibody que objetivos checkpoint inhibitor proteína de muerte celular programada 1 (PD-1) y ligando 2 (PD-L2), liberando la vía PD-1 mediada inhibition de la respuesta inmune. Esto incluye el antitumor respuesta inmune, disminuyendo así el crecimiento tumoral.
La muerte PD-1

receiver

es una superficie

molecule

expresado en

antigen

-estimulado

T cells

.
Cuando no está unido, el receptor PD-1 actúa como un receptor de punto de control inmunitario que permite la auto-tolerancia por parte de las células T; previniendo

autoimmune

reactions
Sin embargo, la unión de PD-1 a sus ligandos, el ligando de muerte celular programada 1 (PD-L1) y el ligando 2 (PD-L2), suprime esta respuesta inmune al inducir la señalización aguas abajo que inhibe la

proliferation

de células T,

cytokine

liberación y citotoxicidad.
La expresión anormal de PD-L1 en la superficie de las células de carcinoma escamoso activa PD-1 y suprime

cytotoxic

T cell

exercise.
Esta tolerancia de células T permite que las células tumorales eviten el reconocimiento y el ataque del sistema inmune.
¿Cómo se administra cemiplimab?
La dosis recomendada de cemiplimab es de 350 mg en perfusión intravenosa durante 30 minutos cada 3 semanas hasta que la progresión de la enfermedad disminuya o sea inaceptable. toxicity es alcanzado.
Dose modification
Inmunomediado severo y fatal Adverse reactions puede requerir la retención o descontinuación de cemiplimab.
Cemiplimab debe ser retenido en las siguientes condiciones:
Grado 2

pneumonitis

Grados 2 o 3

colitis

Hepatitis

(aspartato transaminasa[[

AST

]o alanina[[

ALT

]) aumentó> 3 y ≤10 veces el límite superior de la normalidad [ULN]o total

bilirubin

aumentó ≤3 veces el límite superior de lo normal)
Grados 2–4

endocrinopathies

(retener si es clínicamente necesario)
Otras reacciones adversas de Grado 3 mediadas por el sistema inmune que involucran un órgano principal.
Cemiplimab debe suspenderse permanentemente en las siguientes condiciones:
Neumonitis de grados 3 o 4
Colitis de grado 4
Hepatitis (AST o ALT aumentaron> 10 veces el ULN o la bilirrubina total aumentó> 3 veces el ULN)
Grados 3 o 4 reacciones relacionadas con la perfusión

Recurrent

o reacciones adversas inmunomediadas persistentes (persistentes durante ≥ 12 semanas después de la última dosis o que requieren prednisona ≥ 10 mg / día o el equivalente durante ≥ 12 semanas después de la última dosis de cemiplimab).
Renal

disability

No es necesario ajustar la dosis para la insuficiencia renal leve o moderada, ya que no se ha observado ningún efecto clínicamente importante sobre la exposición de cemiplimab en pharmacokinetics Estudios de población.
Hepatic

disability

No es necesario ajustar la dosis para insuficiencia hepática leve ya que no se ha observado ningún efecto clínicamente importante sobre la exposición de cemiplimab. No hay estudios en pacientes con insuficiencia hepática moderada o grave.
¿Cuáles son las posibles interacciones farmacológicas con cemiplimab?
No se han realizado estudios formales de interacción farmacocinética con cemiplimab.
Cuales son los posibles
adverse events

de cemiplimab?

En ensayos clínicos, los eventos adversos más comunes (≥ 10%) en pacientes que recibieron cemiplimab hasta 3 mg / kg cada 2 semanas fueron:
Fatigue
Nausea

Pruritus

(chop)

Eruption

(sin especificar)
Decreased appetite
Constipation
Diarrea.
El más frecuente (≥2%) grave Adverse drug reactions observado con cemiplimab fueron las vías urinarias infection, septicemia, neumonía, neumonitis y celulitis. El cemiplimab también puede causar reacciones a la perfusión, que incluyen anaphylaxis.
Reacciones adversas graves y fatales mediadas por el sistema inmunitario
El cemiplimab se une al receptor PD-1, bloqueando la vía PD-1 / PD-L1, eliminando así la inhibición de la respuesta inmune, con el potencial de romperse

peripheral

tolerancia (el manejo de T y

B cells

para prevenir reacciones autoinmunes) e inducir reacciones adversas inmunomediadas.
Neumonitis inmunomediada, colitis, hepatitis, endocrinopatías,

hypophysitis

(

inflammation

of the

pituitary gland

),

hypothyroidism

or

hyperthyroidism

, diabetes mellitus tipo 1 y

nephritis

han sido reportados durante ensayos clínicos.
Otras reacciones adversas inmunomediadas que involucran otros sistemas (por ejemplo, neurológicos, cardiovasculares y

ocular

reacciones) también se informaron en menos del 1% de los pacientes en ensayos clínicos.
Las pruebas de química clínica, incluidas las pruebas hepáticas y las pruebas de función tiroidea, deben realizarse en

base

y periódicamente durante el tratamiento y el tratamiento médico instituido de inmediato si es necesario.
Problemas de la piel debido a cemiplimab
Los signos de estos problemas de la piel pueden incluir:
Eruption
Itch
Burning
Painful

ulcers

en la boca, nariz, garganta y área genital.
¿Cuáles son los riesgos con cemiplimab?
Antes de recibir tratamiento con cemiplimab, se debe informar al proveedor de atención médica si el paciente tiene alguna de las siguientes características:
Problemas del sistema inmunitario (p. Ej., Enfermedad de Crohn, colitis ulcerosa o

systemic

lupus eritematoso)
Una historia de órgano

transplant

Problemas pulmonares o respiratorios
Problemas de hígado o riñón
Una historia de diabetes.
Está embarazada o planea quedar embarazada.
Está amamantando o planea amamantar.
El uso de cemiplimab en poblaciones específicas.
Pregnant women
Según su mecanismo de acción, el cemiplimab puede causar daño fetal cuando se administra a una mujer embarazada.
IgG4 humana

immunoglobulins

son conocidos por cruzar la placenta; por lo tanto, el cemiplimab tiene el potencial de transmitirse de la madre al feto en desarrollo.
Los estudios en animales han demostrado que la inhibición de la vía PD-1 / PD-L1 puede conducir a un mayor riesgo de un rechazo mediado por el sistema inmune del feto en desarrollo que resulta en la muerte fetal.
No hay datos disponibles sobre el uso de cemiplimab en mujeres embarazadas.
Nursing mothers
No se sabe si cemiplimab o su metabolites se excretan en la leche humana. Debido a que muchos medicamentos se excretan en la leche humana, las madres deben interrumpir la lactancia antes de usar cemiplimab.
Hembras de potencial reproductivo.
Se debe aconsejar a las mujeres con potencial reproductivo que utilicen métodos anticonceptivos efectivos durante el tratamiento con cemiplimab y durante al menos 4 meses después de la última dosis del medicamento.
Children
La seguridad y eficacia de cemiplimab no se han establecido en niños.
Old people
En estudios clínicos, de los 163 pacientes con SCC cutáneo metastásico y localmente avanzado que recibieron cemiplimab, el 72% tenían 65 años o más y el 37% tenían 75 años o más. No se observaron diferencias generales en seguridad o efectividad entre estos y los pacientes más jóvenes.
New Zealand approved data sheets are the official source of information for these prescription drugs, including approved uses and risk information. See the New Zealand individual data sheet on the Medsafe website.