Decalvana folliculitis is a form of alopecia (hair loss) involving scarring. It is characterized by redness and swelling and pustules around the hair follicle (folliculitis) that leads to the destruction of the follicle and the consequent permanent loss of hair. Decalvana folliculitis is a cause of scar Alopecia (scarring baldness) and is sometimes known as tufted folliculitis.
Decalvana folliculitis affects both men and women and can start first during adolescence or at any point in adult life. The exact cause is unknown. In most cases, Staphylococcus aureus can be isolated from the pustules, but the role of the bacteria it is not clear.
What are the signs and symptoms?
Any hairy region can be involved. It is usually limited to the scalp, but can affect other sites, such as the beard, armpit, and pubic hair, legs, thighs, and arms. Usually there are round or oval patches of hair loss in which there are pustules surrounding the hair follicles (peripheral pustules). Characteristically, several or many hairs can be seen emerging from a single follicle, making the scalp look "tufted" like a toothbrush. Finally, the hairs come off as the follicle is completely destroyed and leaves a scar.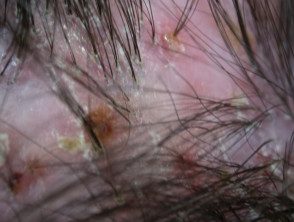 Folliculitis decalvans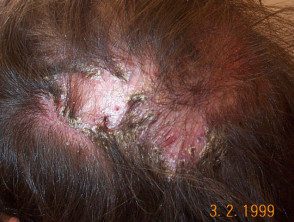 Folliculitis decalvans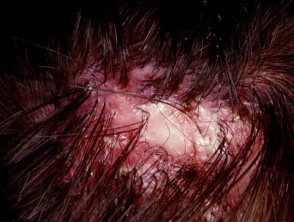 Folliculitis decalvans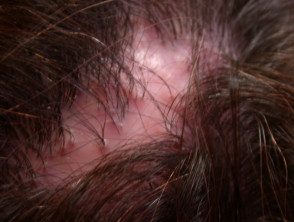 Folliculitis decalvans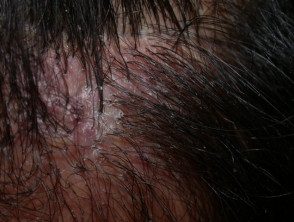 Folliculitis decalvans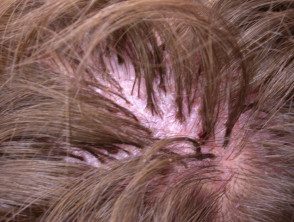 Folliculitis decalvans
Usually there are no symptoms, but sometimes the affected area can be itchy. The disease may remain limited to a few small patches, or it may progress over time and cause extensive hair loss.
What is the treatment of decalvans folliculitis?
There is no permanent cure for the condition, but it can be controlled to some degree through the use of medications.
Oral antibiotics such as minocycline, tetracycline, rifampin, clindamycin, fusidic acid, ciprofloxacin, and dicloxacillin have been tried with different results from one patient to another.
In some severe forms, it may be necessary to add an oral corticosteroid.
Oral isotretinoin can cause long-term

referrals

in some patients

Methyl aminolevulinate photodynamic Therapy is reported to result in clinical improvement