¿Qué son los queratodermas punteados?
Las queratodermas puntuadas producen pequeñas protuberancias de piel engrosada en las palmas y las plantas de los pies y, por lo general, aparecen en la infancia tardía o en la edad adulta temprana.
¿Qué causa las queratodermas punteadas?
Los queratodermas punteados son heredados por un autosomal patrón dominante (el anormal gene se transmite de un padre afectado). Algunas personas con filiform keratoderma no tiene antecedentes familiares aparentes de la afección.
¿Cuáles son los diferentes tipos de queratodermia punteada?
Hay tres tipos diferentes de queratodermia de tipo puntuado:
Queratodermia punteada: pequeñas protuberancias redondeadas y duras en las palmas o las plantas. Algunas personas están mejor clasificadas por tener

porokeratosis palmaris y plantar diseminada, en la cual

Queratodermia filiforme: diminutos "picos" duros de la piel que crecen fuera de la piel de las palmas y las plantas y, a veces, en otras partes de la piel.

Marginal

queratoderma: pequeñas protuberancias a lo largo del borde de las palmas y los dedos, las plantas de los pies y las manos.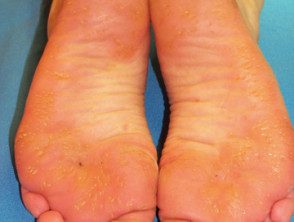 Dotted keratoderma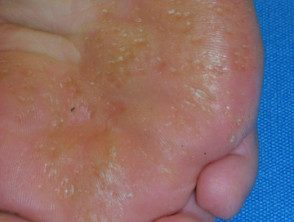 Dotted keratoderma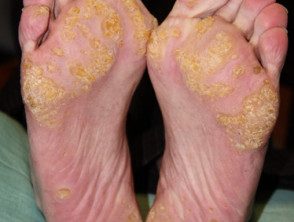 Imagen de la Dra. Marcia Sonneveld
¿Cuál es el tratamiento de la queratodermia punteada?
The following treatments soften thickened skin and make it less noticeable.
Emollients

Queratolíticos (p. Ej., Ácido salicílico al 6% en propilenglicol al 70%)

Current

retinoids

Topical vitamin D

ointment

(calcipotriol)

Systemic

retinoides (acitretina)
Which is the
forecast

para queratodermia punteada?

La queratodermia punteada persiste de por vida y puede transmitirse a la próxima generación. La salud general no se ve afectada, aunque la piel engrosada puede interferir con la actividad.