What is popularly called "mole" are pigmented nevi.
Advantages of laser treatment of moles:
• Does not require anesthesia.
• It is a non-surgical medical-aesthetic treatment performed only by specialist doctors.
• Excellent cost-effectiveness ratio.
• Results superior to those obtained with other procedures
Cost laser treatment for removal of moles
Sometimes the injury can be removed in a single session and other times, the process takes more sessions, that depends on the patient and the injury, so it has to be evaluated by the dermatologist in the first instance. 
To obtain a personalized quote for the removal of moles you must send photos via WhatsApp to the following numbers +54 911 5503 5126 and to +54 911 4079 3779
Treatment is performed by Dr. Ricardo Hoogstra in any of our 3 centers. You can schedule your shift via internet at any of our branches and attend directly to carry out a treatment. 
Melanocytic nevi
Melanocytic nevi are very frequent benign skin lesions found in almost the entire population.
They can be flat or on high, asymptomatic, with well-defined edges, regular coloration and frequently of small diameter (<6 mm in diameter).
Initially, the nevus cells are located between the epidermis and the dermis (dermo-epidermal junction) and are called junctional or junctional nevi. At that time they are flat lesions of dark brown or black coloration.
As time passes, groups of melanocytes (theca) proliferate and extend into the dermis, calling themselves compound melanocytic nevi.
The color of a melanocytic nevus is related to the location of the pigment (melanin). If most of the pigmented cells are in the epidermis (most superficial area of the skin), the coloration will be brown, while if it is located in the epidermis and in the superficial dermis, dark brown or black, and if the melanocytes of the nevus (nevites) are located in the deep dermis, the lesion turns bluish (blue nevus).
The number of melanocytic nevi that a person develops throughout his life is variable and is influenced by genetic and environmental factors (especially the degree of sun exposure to which the skin has been exposed).
Melanocytic nevi are dynamic proliferations that change throughout life. They usually darken with sun exposure or during pregnancy and in adulthood they tend to gradually lose their pigmentation and may even disappear in older ages.
Types of melanocytic nevi:
A) CONGENITAL MELANOCYTIC NEVES.




They can be very variable in size and range from a few millimeters to occupy a large part of the body surface. They have been empirically divided into small, intermediate, and giant congenital melanocytic nevi. An increased risk of developing malignant melanoma has been described especially in melanocytic nevi.

B) ACQUIRED MELANOCYTIC NEVES.




They are lesions of size, coloration, variable number. They are well defined and regularly colored. They can be flat or on high. They are usually more abundant in areas exposed to the sun.

C) ATYPIC SNOWS.




Atypical nevi are moles with irregular edges, diffuse color and / or large. These patients require periodic clinical and dermoscopic controls. Preventive surgical treatment is of utmost importance. Many of these injuries are convenient to remove surgically and send them to a dermatologist for a proper diagnosis.
Practical tips:
• Photoprotection
• Self-exploration
• Regular dermatological controls
Patient testimonials
Mole treatment
Well the truth was my first time and my topic is a mole on the face and I already knew that in the Hoogstra Medical Center it has very good references and the ability to eliminate by laser. I decided to start my treatment to eliminate and I am really very happy. The treatment is very warm and good. I hope to finish in the same way that I would assure you. To people who have not been treated I recommend doing it. Thank you very much.
Jean Carlos Alexis Vargas Sánchez
Nevus treatment
Excellent atention. It was quick to get an interview. I was treated at the horse station with Dr. Migliavacca, ask about a nevus. I get very good advice and in the same week I have a turn to start the nevus extraction treatment.
Rosalía Sánchez
Mole laser treatment
I see Pilar's office with Dr. Carolina Stella. I have already done 5 sessions of Lotus Laser to remove a mole. The treatment is going very well, there is almost nothing left of the mole I had. Very satisfied with everything, attention, explanation, treatment and professionalism.
Roxana Vallina
Mole laser treatment
I went to Pilar's office for a consultation, and that same day I started the treatment to remove some moles, excellent attention from Dr. Carolina Stella and Dr. Ricardo Hoogstra.
Ilsa Cristaldo
How do I take a shift?
The most effective, safe and practical way to take a shift is via the internet.
If you have difficulty taking a shift online, payments and administrative issues.
You can call Monday through Friday from 8 a.m. to 8 p.m. (011) 4901-6690     (011) 4904-3434     (011) 4904-0880
You can take a turn and go directly to perform a treatment. If you have any questions, you can clarify it first with the same professional.
If you. If you have any medical questions, you can write to us in advance by sending an email to 
Only medical consultations will be received here. This mail does not address inquiries about shifts, payments and administrative issues.
More information
In daily practice there are many patients who consult to remove moles that consider them unsightly. The main advantage of treating moles with laser is that scars are avoided.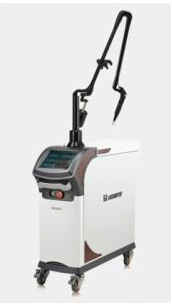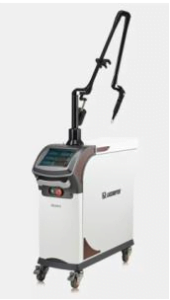 Helios II
How is the treatment to remove moles?
Removing moles with a scalpel, whatever its size and number, leads to safe scars.
With the laser, a better aesthetic opportunity is obtained because the laser light is absorbed by the nevic pigment, consequently a heating and vaporization occurs that leads to the elimination of the nevus without damaging the neighboring tissue.
We could say that treatment with Helios II laser is more accurate. Patient satisfaction is high.
Recurrences are well accepted and easy to correct, therefore lasers generate more aesthetic results when it comes to removing moles for these purposes.
After more than 20 years using different laser technologies I have discovered that the Helios II Nd: YAG Q SWITCHED laser With dual pulse mode 1,064 and 532 nm it is the ideal instrument to remove moles and nevi like Ota's, quickly and safely, without scars and with very satisfactory aesthetic results.
Nevi are mostly benign skin lesions, however, prior to any laser treatment, a clinical, videoscopic and / or pathological assessment of the lesion must be performed. Most of the moles can be removed with Laser in a single session and the patient can immediately continue with his normal life, without taking any type of occlusive cure.
Advantages of treatment of moles with Laser Helios II:
• Does not require anesthesia.
• It is a non-surgical medical-aesthetic treatment performed only by specialist doctors.
• Normally with a single session the permanent elimination of the lesion is achieved.
• Excellent cost-effectiveness ratio.
• Results superior to those obtained with other procedures.
Most moles are completely benign and do not have any risk of malignancy, but all nevi must be surgically removed and sent for histopathological study that:
• It grows rapidly
• It has color and irregular edges
• Bleeds
• Frequently irritated
• They are in the friction zone as the sole of the foot
• They are very dark and are found in areas of difficult control, such as the scalp, perianal, etc.
• Large nevi