What is psoriasis?
Psoriasis is a autoimmune skin disorder characterized by circumscribed, Red, scaly plates.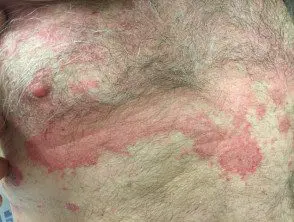 Chronic plaque psoriasis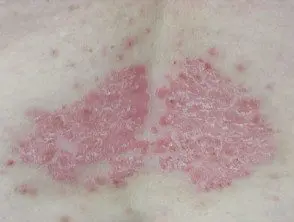 Chronic plaque psoriasis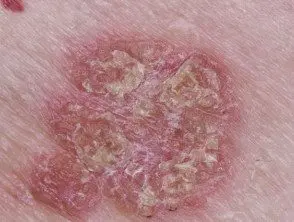 Chronic plaque psoriasis
What is Calcipotriol Dipropionate / Betamethasone Foam?
Calcipotriol dipropionate / betamethasone foam (trade name Enstilar®) it's a current medications prescribed for psoriasis in adults 18 years and older. Enstilar is an alcohol-free foam formulation of the two drugs in a pressurized container. spray; this allows application over large areas [1,2].
The United States, the European Union, Canada, Australia, New Zealand, and other countries have approved Enstilar foam (calcipotriol dipropionate/betamethasone 50 µg/g/0.5 mg/g) for the treatment of license plate psoriasis.
The combination of calcipotriol and betamethasone dipropionate is also available as gel, a ointment and a cream (trade name Daivobet®, Dovobet® and others).
How does calcipotriol/betamethasone dipropionate work?
The mechanism of action of the ingredients has been studied independently, as well as in combination. [1,3].
Calcipotriol
Calcipotriol hydrate is a synthetic vitamin D analog term.
In psoriasis, vitamin D and its

analogs

act primarily for

inhibit

keratinocytes

proliferation

and induce keratinocytes

differentiation

.
Calcipotriol works by reducing the number of new skin cells that are made and by causing the new cells to mature more quickly.
the underlying

antiproliferative

mechanism of vitamin D in

keratinocytes

involves the induction of transforming growth inhibitory factor

growth factor

-β and cyclin-

dependent

kinase inhibitors, with subsequent growth arrest in the G1 phase of the cell cycle.
Vitamin D also has a

immunomodulator

effect, suppressing the activation and differentiation of Th17/Th1 cells and inducing a Th2 response.
betamethasone dipropionate
Betamethasone dipropionate is a potent synthetic topical corticosteroid.
In psoriasis, corticosteroids suppress the immune system, particularly

inflammatory

cytokines

and

chemokines

, thus inhibiting

T cell

activation.
Betamethasone dipropionate works in psoriasis by reducing

inflammation

to relieve skin symptoms such as burning, pain, itching and swelling.
The combination of calcipotriol and betamethasone dipropionate
Enstilar foam combines the pharmacological effects of calcipotriol and betamethasone dipropionate. [2].
The combined treatment flattens psoriasis plaques, eliminating

climbing

and reducing discomfort.
In combination, calcipotriol and betamethasone dipropionate promote greater

anti-inflammatory

and anti

proliferative

effects than either component alone.
How is calcipotriol/betamethasone dipropionate administered?
Each gram of Enstilar foam contains 52.2 mcg of calcipotriene hydrate (equivalent to 50 mcg of calcipotriene) and 0.643 mg of betamethasone dipropionate (equivalent to 0.5 mg of betamethasone) [1,4].
Enstillar foam is applied once daily to affected areas for up to 4 weeks.
The medicine is applied by holding the can at least 3 cm from the skin and spraying on the affected area and rubbing gently.
The foam can be sprayed by holding the can in any orientation except horizontally.
Hands should be washed thoroughly after applying Enstilar foam to any part of the body unless the hands are being treated.
Do not use an increased dose of foam to make up for a forgotten dose.
Patients should stop using the foam when

control

on psoriasis is achieved.
Caution
No more than 60g of Enstilar foam should be used every four days.
Not to be used with

occlusive

dressings unless directed by a doctor.
The foam is not for oral, ophthalmic, or intravaginal use.
Avoid use on the face, groin or

armpits

or if the skin

atrophy

is present at the treatment site.
Treated skin areas should be protected from sunlight and ultraviolet rays (

UV

) rays, for example, by wearing protective clothing against the sun.
Additional topical corticosteroids should not be used on areas treated with Enstilar foam.
Which are the
contraindications

to use calcipotriol/betamethasone dipropionate foam?

Calcipotriol/betamethasone dipropionate foam is indicated for plaque psoriasis. the main contraindication Calcipotriol dipropionate/betamethasone foam is hypersensitivity the active substance or any of the excipients [1,5].

It should not be used for acute types of psoriasis like generalized pustular psoriasis or erythrodermic psoriasis.

Calcipotriol/Betamethasone Dipropionate Foam should also not be used for skin affected with:
viral, fungal, bacterialor parasitic skin infections

Tuberculosis (TB)

Newspaper

dermatitis

Ichthyosis

Acne

Rosacea
Before using Enstilar foam, patients should inform their treating physicians in the following circumstances:
if they have calcium

metabolism

disorder
If they are receiving phototherapy.
If you are pregnant or plan to become pregnant.
If they are breastfeeding or plan to breastfeed.
What are the warnings and precautions for the use of calcipotriol/betamethasone dipropionate foam?
Inflammability
The propellants in calcipotriol/betamethasone dipropionate foam are flammable. Patients are instructed to avoid fire, flame, and smoking during and immediately after application. Keep the foam in a cool dry place, store below 25°C and keep it out of sunlight. Do not expose container to temperatures above 50°C as it is pressurized and extremely flammable. [1,3].
Hypercalcemia and hypercalciuria
Hypercalcemia and hypercalciuria have been observed with the use of calcipotriol/betamethasone dipropionate foam and are more likely if recommended doses are exceeded [1].
If hypercalcaemia or hypercalciuria develops, treatment should be withheld until calcium metabolism parameters have normalized.
the incidence of hypercalcemia and hypercalciuria after treatment with calcipotriol dipropionate/betamethasone foam for more than 4 weeks has not been evaluated.
effects on the
endocrine

system

Systemic absorption of topical corticosteroids, such as betamethasone dipropionate, can rarely lead to reversibility hypothalamicsuppression of the pituitary-adrenal (HPA) axis with the potential for glucocorticosteroid failure during treatment or upon withdrawal of topical corticosteroid. factors that predispose axis suppression of the HPA patient includes treatment of large surfaces, prolonged use of occlusive dressings, impaired skin barrier, liver failure, and young age [1].

Systemic effects of topical corticosteroids may also include Cushing's syndrome, hyperglycemiaand glycosuria.

Local side effects of topical corticosteroids include:
Cutaneous

atrophy
Stretch marks

Telangiectasia

Dryness
perioral dermatitis
Secondary

infection

Miliaria
Misdiagnosis of fungal infection can lead to tinea incognita.
Allergic contact dermatitis
Allergy to topical corticosteroids can rarely cause allergic contact dermatitis, which has also been reported to occur with topical calcipotriol [1].
Use of Calcipotriol/Betamethasone Dipropionate Foam in Specific Populations
Old people
In clinical trials, no overall differences in the exposure, safety, or efficacy of Enstilar foam have been observed between older and younger subjects. However, in these trials, the number of subjects 65 years or older was not sufficient to determine whether they responded differently from younger subjects. [1,3].
Children
Safety and effectiveness of foam instill in pediatric patients under 18 years of age have not yet been established.
Due to a higher ratio of skin surface area to body mass, children under 12 years of age are at particular risk of systemic adverse effects when treated with topical corticosteroids, including growth retardation [1,3].
Pregnant women
There are no adequate and well-controlled studies in pregnant women. Pregnant women were excluded from clinical studies conducted with Enstilar foam.
Enstilar foam should only be used during pregnancy if the potential benefit to the patient justifies the potential risk to the foetus.
Animal reproduction studies have not been conducted with Enstilar foam. However, calcipotriol has been shown to be fetotoxic and betamethasone dipropionate has been shown to be teratogenic in animals when administered systemically [1,3].
Nursing mothers
It is not known whether calcipotriol or topically administered corticosteroids could produce sufficient systemic absorption to produce detectable amounts in human milk.
Because many drugs are excreted in human milk, caution should be exercised when Enstilar foam is administered to a lactating woman.
The patient should be instructed not to use the foam on the breast when nursing [1,3].
What are the possible drug interactions of calcipotriol dipropionate / betamethasone foam?
No interaction studies have been performed. [1].
Instillar foam should not be used concomitantly with the following medicines, as they can occasionally cause excessive levels of calcium in the blood:
Cholecalciferol
calcium citrate
calcium acetate
Chlorothiazide
Calcium gluconate
Chlorthalidone
calcitriol
What are the possible side effects of calcipotriol/betamethasone dipropionate foam?
Adverse effects on <1% de los receptores asociados con el uso de Enstilar en ensayos clínicos incluidos [6,7]:
Application site irritation
Application site

pruritus

Folliculitis

Hypopigmentation

hypercalcemia

Urticaria

Exacerbation

psoriasis
Because clinical trials are conducted under highly variable conditions, adverse reaction The rates observed in clinical trials of one drug cannot be directly compared with the rates in clinical trials of another drug and may not reflect the rates observed in practice.
New Zealand approved data sheets are the official source of information for these prescription drugs, including approved uses and risk information. See the New Zealand individual data sheet on the Medsafe website.